Warrandyte Historical Society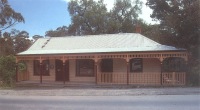 Louis Michel was the first person to discover gold in Australia. He did so in Anderson Creek, Warrandyte. Many famous artists have lived and worked here, many noted potters and craftsmen have lived and died here. The area has survived severe droughts, floods and raging fires. There has always been and always will be a good sense of community spirit in Warrandyte.
Address:
111 Yarra Street, Warrandyte, VIC
Hours:
1-4pm Sat, Sun, also by appointment
Facilities:
Wheelchair access, shop, guided tours of local gold fields, car and bus parking, some local history publication
Collection:
Over 1000 photographs and a significant collection of archival materials, plus a modest collection of artefacts relating to gold mining and associated industries. Also artefacts from the indigenous culture and our artistic past.