Dartmoor District Coach House Museum
The building was originally built as a coach house/blacksmith shop, in 1880, from local field limestone. It served a variety of commercial purposes until its conversion to a museum in 1993. Its whitewashed interior and polished timber floors is a perfect setting to display historical items. Dartmoor has an interesting history, a meeting place in Koori times, a Fording place during European pastoral expansion and epicentre of the Radiata Pine industry from 1927. See the trials and triumphs of a rural community.
Address:
Greenham Street, Dartmoor, VIC
Hours:
By Appointment, Sunday afternoons 1-4pm
Facilities:
Family history research conducted, local craft sales, local history records available for research, guided tours for groups, refreshments by arrangement.
Collection:
District memorabilia; photographs, artefacts, ephemera, implements and historical documents (minute books, rolls and histories) highlighting the social heritage of the district.
Items
Framed Memorabilia
Dartmoor District Girl Guide Ephemera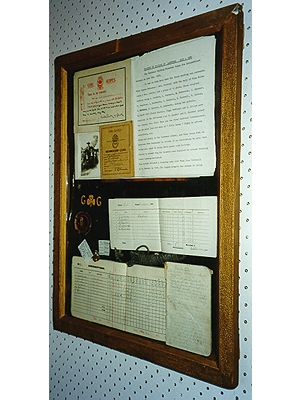 Creator:
Pat Stretch nee Spencer/ Dartmoor Museum
Description:
Memorabilia and ephemera relating to history of girl guides in Dartmoor and involvement of Patricia Spencer. The guides formed in Dartmoor in the late 1920's and continued for almost 70 years. Pat Stretch/Spencer was an initial member and retained related material including the first attendance roll. A local contemporary friend of Lady Baden-Powell, Elsie Shaw, of 'Rifle Downs' Digby, was responsible for the development of Guiding in south west Victoria.
Rabbit Fumigator
Homemade Fumigator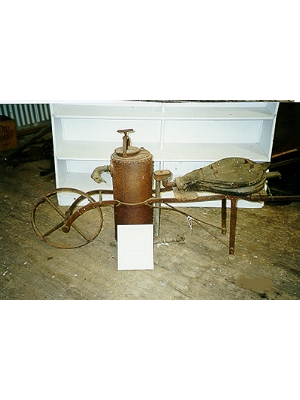 Creator:
Mullen Family, Drik Drik
Description:
Homemade rabbit -fumigator 'wheelbarrow'. Single front wheel charcoal burner and bellows mid-implement. Within 20 years of introduction to Victoria, rabbits became a menace to agriculture. By the 1890's in the Dartmoor district rabbits went from novelty to pest. The Mullen family, early settlers of Drik Drik devised their own fumigator to combat the problem.
Bullock Horn
Horn Used as Handle on Blacksmith Bellows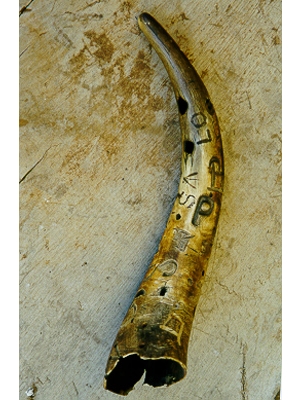 Creator:
George Frederick Spencer (1819 - 1877) or his son Frederick Spencer (1853 - 1923).
Description:
The bullock horn, approximately 45cm long, was the handle at the end of the blacksmiths bellow belonging to the Spencer family. G.F. Spencer was an early pioneer of Portland Bay district, the 'birthplace of Victoria'. He settled in Dartmoor by 1860 and 3 successive generations of his family were blacksmiths as he had been. Initials were burned into the bellows handle over time; 'LO' is Leslie Olsen (great nephew of GF Spencer) who died in 1916 as a youth. He fell off a ballast train while delivering food to rail workers building the Heywood - Mt Gambier railway line.
Political Graffiti Sign
Save Dartmoor' Sign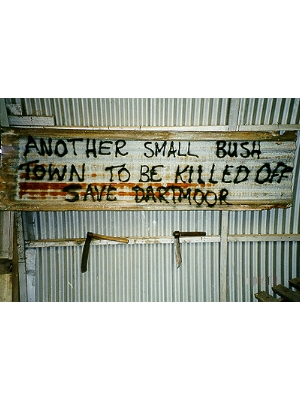 Creator:
Unknown - thought to be local school principal Graham Wood
Description:
One of series of political slogan signs associated with 'Save Dartmoor'. During 1993/94 it appeared that the principal employment industry in Dartmoor, a softwood timber mill, may close and signal a death knell for the district. Community and union political action ensured the survival of the industry; fitting, as Dartmoor was the birthplace of the radiata pine industry in 1927.
Photograph
Sister Rachel Pratt M.M.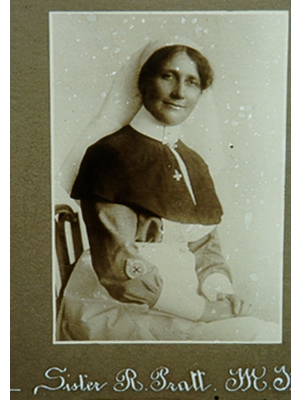 Description:
Photograph in framed memorial of WWI veterans of Mumbannar School, Dartmoor District, South-West Victoria. Rachel Pratt was one of seven Australian nurses in World War One to be awarded the military medal for 'bravery under fire'. Her war medals, including M.M. are on public display at the national war memorial in Canberra.
['Beyond the Call', L.A. Deacon ISBN 1876261 10 2]
This photo, with others of Dartmoor and district, is available in the 'Vern McCallum Collection" of historic photos of Western Victoria - a collection of regional and State significance.