Horsham Regional Art Gallery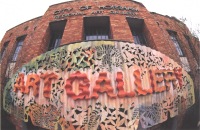 Horsham Regional Art Gallery is housed in a fine art deco building, recently refurbished and extended in recent years. We have four temporary exhibition spaces featuring changing exhibitions of contemporary and traditional art photography. We are also recognised as one of the most friendly galleries!
Centrally located between the Grampians and Little Desert National Parks, and close to the world Mecca of rock climbing, Mt Arapiles, Horsham boasts a lively arts community, with one of the best community festivals, "Art is...", held in March each year.
Address:
80 Wilson Street, Horsham, VIC
Hours:
10am-5pm Tue-Fri, 1-4.30pm Sat & Sun
Facilities:
Five main exhibition areas - The Mack Jost Gallery for the permanent
collection and tour temporary exhibition galleries, including The
Handbury Gallery for touring exhibitions, Photographic Galleries and
Community Gallery for exhibitions by regional artists. Membership,
newsletter, Education Officer, education programs, shop, free tea and
coffee, guided tours and refreshments for groups available by
appointment, rooms for hire, toilets, disabled toilet, lift, disabled
access to all areas.
Collection:
The collection has two main focus areas: Australian Art - 450 paintings, drawings and prints with the main holdings in the Mack Jost Collection and Photography - 800 works, early to contemporary. The Australian art collection includes a small collection of ceramics and sculpture. Another focus is works regional significance. A newly acquired
aspect of the collection is the Bill and Maureen Mann Collection, consisting of 42 finished works and 51 sketches, of Australian wildlife art; mainly works on paper and centred around the Bill and Maureen Mann Collection.
Items
Photograph
Billy from "The Harmed Circle"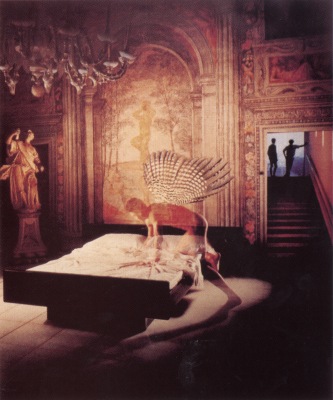 Description:
This work is part of a series based on the AIDS crisis. The image was also used in a limited edition, handmade book of photographs and text both by Lyssiotis - also called "The Harmed Circle". The image was created by photographing and rephotographing a collage.
Painting
What a Whopper!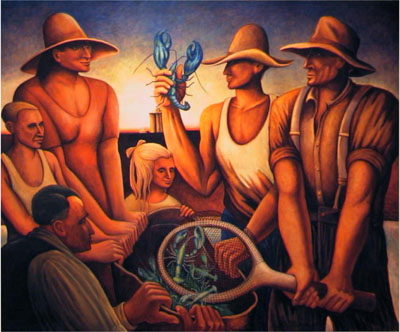 Description:
Bob Marchant returned to Australia after a long career in graphic design in UK. For the subject matter of many of his paintings he returned to memories of his childhood in the Wimmera.
Painting
Alice in Australia
Description:
Neil Douglas was asked to participate in the Alice 125 exhibition and created this large painting for the show. Alice's confrontation with the Queen of Hearts, takes place beside one of the Wimmera regions Pink Lakes. Around the central panel are details of the Wimmera landscape.
Heide Museum of contemporary Art, Nhill, Horsham, Wimmera
Sculpture
Spring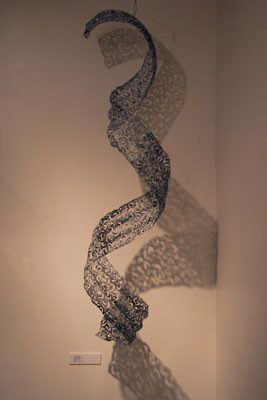 Description:
Jeff Thomson is a New Zealand based artist with an international reputation. In 1998 he visited Horsham for a commissioned sculpture for the Gallery façade. He brought with him this piece and donated it to the Gallery.
Photograph
Sulphuric Acid Plant - EZ Industries, Risdon, Hobart.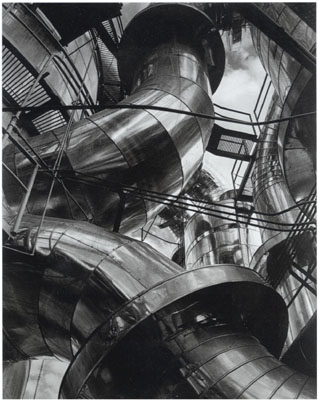 Creator:
Wolfgang Sievers
Description:
Wolfgang Sievers came to Australia in 1938. He is considered to be one of our greatest industrial photographers, creating something of the grandeur of industrial sites and the men who work there.