Canberra Contemporary Art Space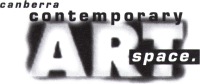 Canberra Contemporary Art Space is a vibrant centre for the experience of contemporary art which presents a curated program of exhibitions and events by Australian and international artists. It also provides professional support for ACT based artists. In a national context, CCAS is one of a network of fifteen organisations, known as CAOS (Contemporary Art Organisations Australia) based in each of the State and Territory capitals of Australia with a charter to present the best in contemporary art practice.
Address:
Gorman House Arts Centre, Ainslie Avenue, Braddon, ACT
Hours:
Wednesday to Friday 11pm-5pm Saturday 10am-4pm
Facilities:
Bookshop, Periodicals, CCAS catalogues
Collection:
CCAS operates three venues in two separate locations: CCAS Gorman House and CCAS Cube at Ainslie Avenue, Braddon, ACT and CCAS Manuka, 19 Furneaux Street, Manuka.