Old Canberra Tram Company
The Tram Company is part of the Canberra Tradesmen's Union Club, which has been developed along the philosophy of a living museum and is characterised by its nostalgic charm and friendly atmosphere. Ten fully restored Australian trams are incorporated into the club and are used as dining spaces.
Address:
2 Badham Street, Dickson, ACT
Facilities:
Wheelchair access, bistro, coffee shop, licensed bar, catalogue available
Collection:
10 restored trams (not running) from various Australian cities. Brisbane, Adelaide, Melbourne, Sydney, Launceston.
Items
Tram
Adelaide D Class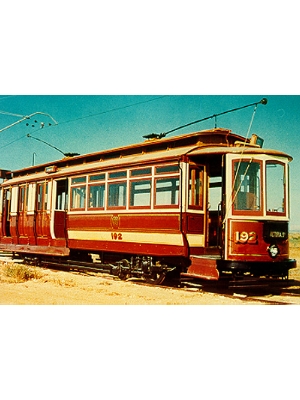 Creator:
A. Pengelly & Co, Edwardstown, SA
Description:
Originally operated by the Municipal Tramway Trust in Adelaide it ran on the main city system and was withdrawn from service in 1958. Original magnetic brakes were replaced by air brakes in the 1920s when the seating capacity was reduced from 54 to 50. The tram has been fully restored and refurbished.
Tram
Brisbane FM Class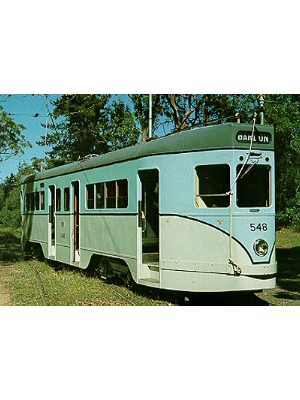 Description:
One of the first trams in Australia to run with resistant wheels to reduce noise. This tram was worked on the majority of day off-peak and evening services and all journeys on Sundays in the Brisbane city area. This was one of the cars that escaped the massive tram depot fire which forced the closure of the Brisbane Tramway system in 1962.
Tram
Sydney P Class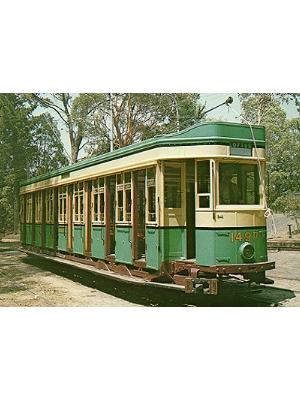 Description:
This is a cross bench car, which meant that the conductors had to swing outside on the running boards while it was going. All compartments were enclosed but the concertina canvas doors and large windows provided "convertible" type body suitable for all weather. With a seating capacity of 80, this tram is of the type referred to in the saying "shot through like a Bondi tram". It has been fully restored.
Tram
Melbourne W2 Class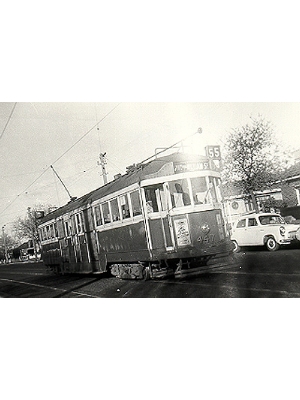 Creator:
Melbourne and Metropolitan Tramways Board
Description:
A fully restored tram purchased in 1979 from the Melbourne and Metropolitan Tramways Board this tram travelled 1,601,504 miles during service. It received a major overhaul in 1936, wartime blackout lights were fitted in 1944 and the ceilings were done in "colorflek" in 1965. This example is one of 406 built and it has a seating capacity of 52.
Tram
Melbourne Cable Car Trailer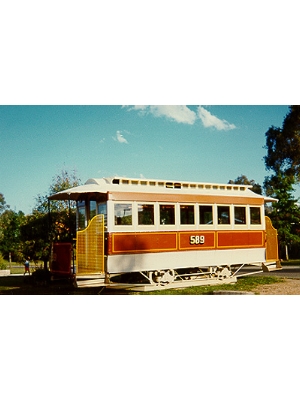 Creator:
Melbourne and Metropolitan Tramways Board
Description:
The full set consisted of a dummy, which gripped the cable and a trailer which carried most of the passengers. The trailer was built from the same plans as the original San Francisco Cable Car and has a seating capacity of 22. The motive power was by a continuous steel and hemp cable set below the road surface driven by steam engines in engine houses several miles apart. The body has been restored to 1939-40 condition using parts from another trailer.