Amaroo Museum and Cultural Centre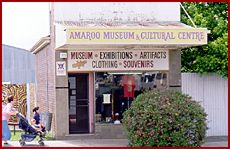 The centre's major exhbition focuses on the local Aboriginal history of the area with a large wall hanging showing the layout of the old Aboriginal reserve that was situated at Walcha. The centre also has examples of Aboriginal material from around Australia which shows the diversity which exists within Aboriginal culture.
Contact: Sue Hudson
Address:
38n Derby Street, Walcha NSW
Hours:
9.00am - 5.00am, Mon to Fri
Facilities:
The Centre conducts workshops on screen printing and artefact painting. The shop sells locally produced artworks and artefacts, as well as an extensive range of fabrics that have been screen printed with local Aboriginal designs.