Miss Traill's House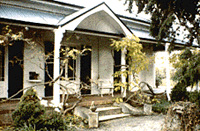 This picturesque colonial Georgian cottage (c.1845) set in fine gardens was bequeathed to the National Trust by Miss Ida Traill, a descendant of pioneering settlers in the Bathurst district. The 19th century cottage garden is ablaze with colour in Spring.
Address:
1321 Russell Street, Bathurst, NSW
Hours:
Tuesday - Saturday 1.00pm - 3.00pm, Sunday 10.30am - 4.30pm
Admission:
Trust Members free, Adults $5, Family $12, Children/Concession/Seniors $3
Visit to garden free
Collection:
Containing memorabilia collected by Miss Traill and her family, the cottage provides an authentic record of life in Australia's oldest inland city.