Glen Innes Museum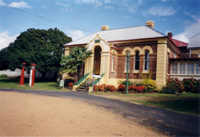 Original Glen Innes Hospital (Heritage listed) with over 10,000 displays from local Pioneer families including a slab hut inside the museum; 250,000 (minimum) Archive records on early settlers, businesses, council, properties, 10,000 original photos of early days.
Address:
Crn Ferguson St & West Ave, Glen Innes, NSW
Hours:
Weekdays - 10am - 12noon, 2pm - 5pm, Weekends - 2pm - 5pm, Long Weekends 9am - 5pm.
Admission:
Adults $4, Concessions $3, Children $1
Collection:
WW II memorabilia, slab Hut, Horse drawn vehicles, colonial rooms, costumes from 1800's
Items
Slab Hut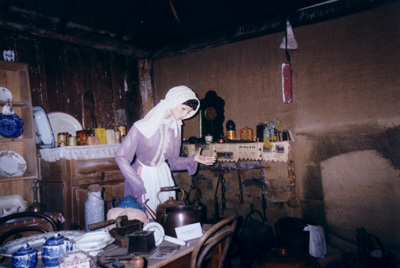 Creator:
George & Betsy Every
Description:
Slab Hut Built in 1870's, erected to exact original design inside Museum. Contains period furniture of "Every Family" and other local early settlers. Period furniture, Kitchen appliances, books from original family.
Celtic Room
Description:
The Celtic Room in the Museum was established to honour the earliest European Settlers to New England. Predominantly Scottish, they were the first people to open up this area. There are photos, Highland dress, books, brought here by early Pioneers, maps and other Celtic artefacts.
Services Memorial Room
Description:
Photos, maps, articles donated by Glen Innes ex Servicemen and Women. A map of Australia with Japanese writing, taken from Japanese planning to invade: Photos and story of Lt Ken Briggs who cut cable from Saigon to Tokyo from a midget submarine during WWII.