Bedervale Historic Homestead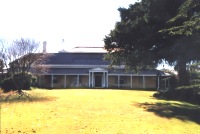 John Verge designed the country homestead Bedervale set in a pleasant eight acre garden on a working rural property. The homestead adjoins an earlier enclosed courtyard and farmyard. It contains a unique collection of the original families furniture and personal effects from the 1840's and is still lived in as a home.
Address:
Entrance end of Monkiltee Street, Braidwood, NSW
Hours:
2pm first Sunday each month from September - May or by appointment
Admission:
Adults $6, Students $3, National Trust members $3.
Facilities:
Guided tours, gift shop, teas and lunches by arrangement, brochure available
Collection:
Family collection from pre 1840 to 1900 in situ plus recent family additions. Australian and English furniture, china, paintings, household effects and kitchen utensils. Horse drawn vehicles and machinery.
Items
Hall Stand
Australian Cedar Hall Stand
Creator:
Roderick McDonald
Description:
Hall stand made in Braidwood of Australian Cedar by Roderick McDonald
Hall stand was exhibited in the Garden Palace Exhibition in Sydney in 1879.
Paintings
4 Oil Paintings of theTreaty Ports of China
Baths
Tin Baths
Description:
Collection of Tin Baths
Wardrobe
1920's Gentleman's Compactum Wardrobe
Description:
1920s Gentleman's compactum wardrobe complete with clothing.
Kitchen
Kitchen
Description:
Kitchen with original contents used up until 1934