Brunswick Valley Historical Society Museum
The main museum building was Mullumbimby's first post office, built in timber in 1907, which was relocated to its present site in 1984. Summers Park in which the museum buildings and external exhibits are located, has a replica slab cottage, a large collection of horse drawn farm implements, and equipment from the local railway, water supply facility and brick works. Mullumbimby is the service centre for the Brunswick Valley and lies in the heart of the Byron Shire. A monthly market is held in Summers Park on the third Saturday of each month.
Address:
Cnr Stuart and Myocum Streets, Mullumbimby, NSW
Hours:
Fridays 11.00am - 3.00pm, 3rd Saturday of every month 9.00am - 12.00noon. Also by appointment.
Facilities:
Wheelchair access, opening on request, guided tours
Collection:
The Museum houses a general collection of local history memorabilia, photographs and documents including newspapers which have been microfilmed for the years 1906-1942. A machinery shed contains a variety of machinery and tools from old local trades and industries including timber cutting, coach building, plumbing, printing, dairying and banana growing.
Items
Horse drawn vehicles and other objects
Various
Description:
This corner of Summers Park shows (right) a replica slab cottage built with pioneering techniques, opening in 1992; two horse drawn carts, the red and yellow one used by Mullumbimby Municipal Council until the late 1970s for town street cleaning and the green one from a local farm; a country dunny; and a collection of equipment from the railway (opened in 1894), local brickworks (from around 1900, and council water supply (late 1930s).
Mullumbimby, Summers Park
Logo
BVHS Emblem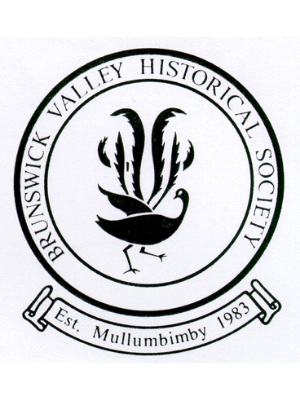 Description:
The Municipal Council was incorporated in 1908, born out of a determined struggle by the people of Mullumbimby to develop a local government area separate from the Byron Shire which encircled it. The council was a square mile in size and had a recorded population of 907, the smallest in the state. It built its own hydro-electricity plant and had its own water supply, selling both of these services to Byron Shire rate payers. Of a total enrollment of 274, 180 people voted for their first council. The first mayoral vote was tied and Alderman JN Hollingworth became the first mayor on a draw from a hat.
The logo was adopted after the Mullumbimby Municipal Council (1908-1980) was amalgamated with the Byron Shire Council and its emblem was discarded. The former municipal council was incorporated after a long and determined stuggle. It was the smallest local government area in NSW about a mile square. Nevertheless it was energetic enough to build water and power supplies to serve its own rate payers and to sell its surplus to surrounding Byron Shire residents. It seemed like a good model for a fledgling organisation and our name and date replaced those of the old council.
Building
Museum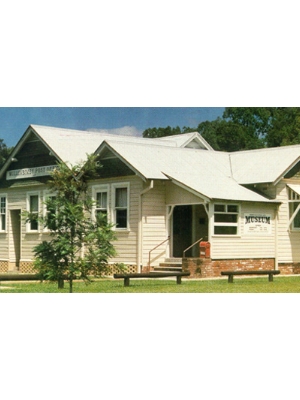 Creator:
Built for the postmaster general 1907
Description:
Timber postal building which housed postal and telegraph functions and Post Master's residence. Iron Roof. Local timber-teak, Rosewood, Cedar etc.
The building was acquired by the society in 1984 when a contract to "clear the site" was won from Australia Post. The building was cut in half and moved on a truck in 2 stages to land provided by Dept. of lands, through Council. Renovated largely by volunteers. A new P.O. was built on the original main street site.
Furniture
Mayor's chair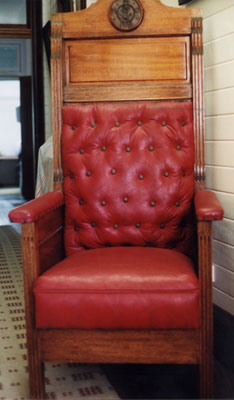 Description:
The Mayor's chair came from the Mullumbimby Municipal Council when the council was amalgamated with the Byron Shire in 1981. No details are known about its origins or manufacture. It is plain design, solidly constructed with simple decoration on the arms and back. It is carved at the top with the municipal insignia - the lyre bird (see story on the BVHS logo) .
Machinery
Road roller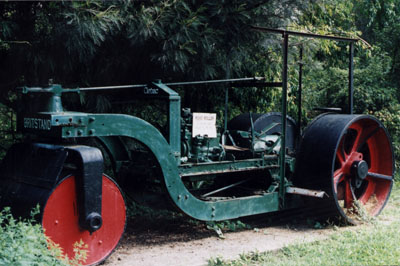 Description:
Byron Shire council road roller. Said to date from 1911, this roller was a novelty when it was acquired by the council. It was used on roads in both town and country areas. It was propelled by a 4-cylinder petrol driven engine and had rack and pinion steering.
Northern Rivers, Brunswick, Mullumbimby, NSW