Albury Regional Art Gallery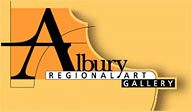 The Albury Regional Art Gallery is housed in a renovated building which was the former Town Hall, built in 1908. It is a splendid example of late Victorian 'wedding cake rococco'. Opened as the Art Gallery in 1981, it organises an extensive program of exhibitions, public lectures, education activities, holiday workshops and musical programs.
Address:
546 Dean Street, Albury, NSW
Hours:
Monday - Friday 10:30am - 5:00pm; Saturday, Sunday & public holidays 10:30am - 4:00pm
Facilities:
Education programs for all levels, holiday program. guided tours by appointment, resource library, coffee, access and toilet for disabled.
Collection:
The collections comprise the City Collection, begun in 1947, with the Albury Art Prize as the major source of objects. In 1981 Photography was established as a major strand within the colleciton along with other works on paper. The policy was to collect the work of local artists of national repute. Sir Russell Drysdale fulfils that criterion. The other strand is the Daniel Gift of European prints and oriental artefacts. 1000 items, including 250 photographs, 200 European and Australian prints.
Items
Gouache painting
Albury Platform
Creator:
Sir Russell Drysdale
Description:
Russell Drysdale grew up on a property near Albury. He is the region's most famous son. He painted and drew several pictures of Albury Railway Station. This painting was donated by his family.
Item Id Number:
APD/89/180
Book
Los Caprichos
Description:
This bound edition of the etchings came to the Art Gallery through the Daniel Gift. Los Caprichos is a suite of etchings depicting some follies of society and is one of the artist's famous suites.
Item Id Number:
DG/91 938
Photograph
Something More
Description:
Cibachrome photograph, one of a series commissioned by ARAG in 1989. This image sold for $12,000 in 1989; its last price evaluation (Oct 2001) was US$129,000.
Item Id Number:
APH/89/170
National Gallery of Australia, National Gallery of Victoria, Ros Oxley, Sydney
Photograph
The Sunbaker
Description:
One of a number of works by this artist in the Albury Art Gallery's photographic collection, the Sunbaker is an iconic image in Australian visual memory. This work is a vintage print.
Item Id Number:
APH/82/329
Photograph
Brown Works #9
Description:
Rosemary Laing has photographed large and exotic places and objects as a challenge. This is a stripped down freight plane taken at Mascot in Sydney. She had one and a half hours to set and photograph it before the place had to be re-loaded.
Item Id Number:
APH/01/839