Bishop's Lodge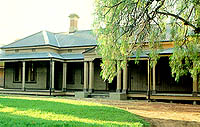 Bishop's Lodge was built in 1889 for the Anglican Bishop of Riverina. It is an iron house, built with great technical innovation for the climate and soils of the Western Riverina. It is set in a late nineteenth century garden and reflects the social, cultural and religious history of its inhabitants over the past century.
Hours:
2pm-4:30pm Mon - Sat or by appointment
Facilities:
Guided tours, wheelchair access, building and garden available for hire, catering by prior arrangement
Items
Clothing
Coach Boy's Coat
Description:
Linen coat worn by coach boys when driving Bishop around town
Locket
Description:
Photograph of Bishop Anderson in locket which belonged to his wife Mrs Aimee Anderson
Furniture
Original Chapel Altar
Description:
Oak altar made C.1890 for Bishop Linton, first resident of Bishop's Lodge. Recently reclaimed as it left Bishop's Lodge in 1946.
Correspondence
Letters
Description:
Series of illustrated letters written to his daughter Mary by Bishop Anderson when travelling around his diocese
Tools
Dental Tools
Description:
Set of travelling dental tools used by Rev. Hugh Linton, son of Bishop Linton, as he travelled through outback NSW in 1910s