Henry Lawson Centre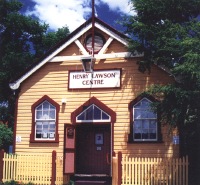 Housed in a historic weatherboard building which was formerly a Salvation Army Hall, the Henry Lawson Centre is a living memorial to the great Australian writer's life and times. It houses a fine collection of Lawsonia from all parts of Australia and is a repository for books, writings and memorabilia. Art representing Lawson's work is displayed in the building, which also functions as a study centre. The Henry Lawson Society holds an annual literary award progam which is incorporated into a Henry Lawson Festival in the June long weekend.
Address:
147 Mayne Street, Gulgong, NSW
Hours:
Wed-Sat 10am-3.30pm, Sun-Tues 10am-1pm
Admission:
Adults $4, concessions and children $2.50, families $10, bus groups $2 per person
Facilities:
Education programs, lectures, library, souvenir sales, guided tours of the town, literary awards, poetry and story reading in June
Collection:
Rated as possibly the best Henry Lawson collection in Australia, the museum houses memorabilia and artifacts from the life and times of Henry Lawson - the collection has an original manuscript of Henry Lawsons and other major works.
Items
Timber Construction
The Flour Bin
Creator:
Peter Lawson (Henry Lawson's father)
Description:
When the Lawson family moved to Sydney, they gave their flour bin to their good neighbours, the Wirth family. When Henry visited the Wirths in 1915, he saw the bin and wrote "The Flour Bin":

On a German farm by Mudgee,
That took long years to win,
On the wide-bricked verandah
There stands a flour bin…
Death-mask hand
The death-mask hand of Henry Lawson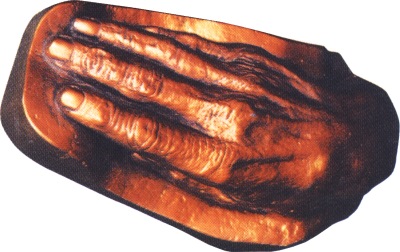 Description:
Casting of Henry Lawson's hand after his death, one of only six in existence. The other five are all in private collections or museums; this one was given to us from Leonard Teale's private Lawson collection.
Book
Rare copy of Lawson's 'Short Stories in Prose and Verse'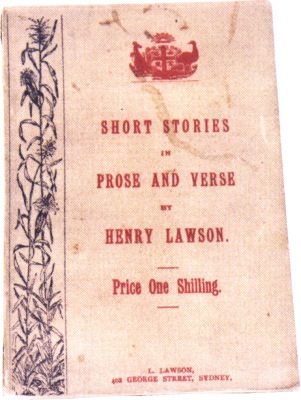 Description:
First edition - printed by his mother and belonged to his two best friends, Tom Mutch & John LeGay Brereton
Manuscript
Fragments of Manuscript
Description:
Last fragments of manuscript owned by his daughter Bertha. Purchased in 2000 from its owners, living near Melbourne. Traced as originally having come from the Gulgong/Mudgee area. Still very clear. (Note that many manuscripts were used to light fires, as "wallpaper" to cover cracks in walls, or to line shelves.)
Soldier Birds
Description:
Complete manuscript of this biographical poem (on display in June 2000)