McCrossin's Mill Museum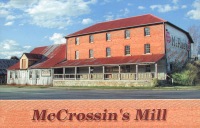 McCrossin's Mill Museum and function centre is owned and operated by volunteers of Uralla Historical Society. The superbly restored three-storey flour mill houses many exhibitions, each with a distinctive, sometimes even humorous flavour. Visitors are astonished to find such a "Professional" set up in the quaint village of Uralla. Population 2,500. They also love the mill's beautifully maintained gardens, and the "Death of Thunderbolt" Painting series.
Address:
Salisbury Street, Uralla, NSW
Hours:
12pm-5pm daily, 10am-5pm school holidays and public holidays
Admission:
Adults $4, Child or school group $1.50, Concession or coach tour $3, Family $12.
Facilities:
Guided tours on request, brochures, school project material
Collection:
Major features: Chinese Artefacts, "Death of Thunderbolt paintings", Thunderbolt Exhibition, Corporal Cecil Stoker Exhibition. (WWI), Tricketts Triumph" (Trickett, champion sculler, number one in Australia's Sporting Hall of Fame).
Items
Chinese Artefacts
Joss House Altar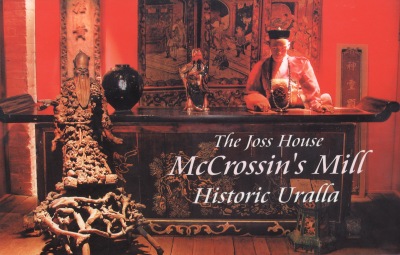 Description:
Originally used in the Rocky River Joss House (Then Tinghas) The altar was being used as a counter in the Tingha Hardware Shop when discovered by members of the Uralla Historical Society in 1982. This led to the discovery of many other important artefacts, originally from Rocky River Joss House.
WWI Memorabilia
Cecil Stoker Collection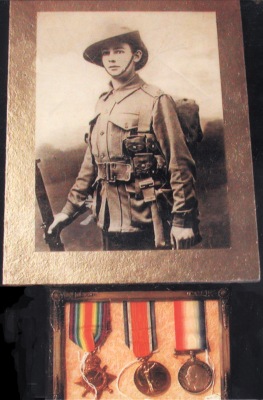 Description:
A tin trunk discovered boarded up in the chimney of an old local building. It contained hundreds of items to do with the stoker family, but especially artefacts belonging to corporal Cecil Stoker, killed in France, 1916.
Gravestone
Trickett's Gravestone
Description:
Edward Trickett, Australia's first international sporting champion (sculling), the World Champion in 1876,7 was killed in an accident at Uralla in 1916. The family agreed to his marble memorial being moved to the museum after it was damaged in 1980.
Chinese Artefact
Story Panel
Description:
This artefact was recently donated by a man who has lived in Canada for forty years, and returned to visit his mother in Tamworth. It comes from the same source as most of other Joss House artefacts but this piece has been stored in a shed for fifty years. Originally in Racky River Joss House, then Tingha.
Shaving Set
Sunny Jim's Farewell gift
Description:
James Rainey Mackay of Uralla, went on to play cricket for Burwood as a rival to Trumper and Bradman in terms of statistics. His career was cut short by an accident in South Africa. The shaving set was a farewell gift from members of the NSW Sheffield Shield team, and is inscribed with their names … and from a few of his running partners.