Walcha and District Historical Society Inc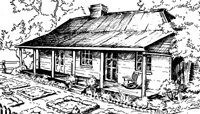 Nine buildings housing items of historical interest to Walcha and the surrounding district. There is the Museum, Original Pioneer Cottage, Wool Museum, Tiger Moth Aeroplane Hangar. Walcha is situated on the Southern New England Tablelands and was discovered in 1818 and settled from 1832 - 1839. The local history centre houses an extensive collection of maps, books, ledgers, photographs and memorabilia about Walcha and the surrounding districts.
Address:
111N Derby Street, Walcha, NSW
Hours:
Saturday 11:00am - 4:00pm or by appointment
Collection:
Local community archival records and photographs, clothing collection, small Aboriginal artefact collection and Dendroglyph plus pioneer and agricultural items.