Land of the Beardies History House Museum and Archival Centre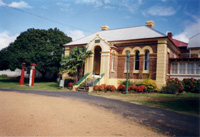 A large 24 room folk museum established in the old Glen Innes Hospital. Land of the Beardies houses a very wide and representative collection of objects, artefacts and documents dating back to early settlement in the 1840s. It also provides an outside machinery exhibit and an archive and research centre with over 200,000 references.
Address:
Cnr West Avenue & Ferguson Street, Glen Innes, NSW
Hours:
10am-12pm & 2pm-5pm Mon to Fri; 2pm-5pm Sat & Sun; 9am-5pm long weekends.
Admission:
Adults $4, seniors $2, children $1
Facilities:
Wheelchair access, craft shop, library, tours by arrangement, school programs
Items
Slab cottage and contents
Description:
The cottage was built in 1870 with additions in the 1880s. It was transferred from its original site and re-erected indoors. The contents represent the period.
Buggy
Description:
Handsome restored vehicle dating from late 1800s, property of original settler family.
Crop stripper
Creator:
Braybrook Implement Company
Description:
Forerunner to the harvester.
Fire cart
Hand Drawn Fire Hose Reel Cart
Description:
Wheels are 5'6 in diameter and the cart is fully restored.