Lismore Regional Art Gallery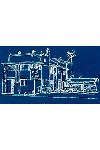 Housed in the Trench Building, erected in 1908, the Lismore Regional Art Gallery has been operating since 1953. The National Trust has stated that this building, a combination of Art Nouveau and Continental Secession, is almost unique. In February 2004 the Lismore Regional Gallery celebrates its 50th Anniversary with an exhibition of historic works from the permanent collection.
Address:
131 Molesworth Street, Lismore, NSW
Hours:
Tuesday-Friday 10:00am-4:00pm, Saturday - Sunday 10:30am - 2:30pm
Facilities:
Wheelchair access, reference library, guided tours, education programs, coffee shop, licensed restaurant.
Collection:
Over 400 items. Works by significant Australian artists such as Margaret Olley, Albert Namatjira and Kevin Connor as well as many talented and well known local artists such as Jan Davis, Patsy Hely, Dennis Monks and Mostyn Bramley-Moore.
Items
Painting
Goanna Headland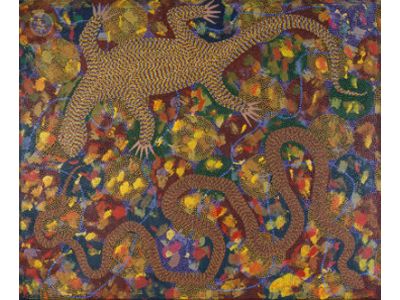 Creator:
Albert (Digby) Moran
Description:
Contemporary Aboriginal Painting
Digby Moran is Bundalung/ Dungutti and his painting represents the dreamtime legend of Evans Head and the Bundalung People.
Painted Woomera
Landscape painted Woomera
Creator:
Albert Namatjira
Description:
A landscape painted on a woomera. It has Namatjira totem on the back, piece is boxed
Purchased from Mr K H Langsam's Southport Gallery Qld. Its Albert own Woomera and came from the Hermannesberg Mission and has been verified by DR Rex Battersbee
Painting
Child
Description:
A Portrait of a child
Winner of City of Lismore Art Prize 1955. He began teaching at St Mary's Church studio, Kangaroo Point, Brisbane 1954. It seems to be one of the first art prizes he won.
Painting
Lilies and Grapes
Description:
Still Life of lilies and grapes. White and red lilies in a blue vase against a green background with grapes, apples and a blue mug on a blue tablecloth.
Margaret Olley was born in Lismore and still has family here. It was the winner of city of Lismore Art Prize 1958.
Painting
Britains Heritage
Creator:
Arthur James Wetherall Burgess
Description:
A large marine painting with battleships in realistic oceanscape
Exhibited at the society of marine artists, guildhall, London 1947. Presented to the Ciry of Lismore by Mrs G.W.F. Mcnaughton of London, in appreciation of the gallantry of Australian sons in both wars.