Queanbeyan and District Historical Museum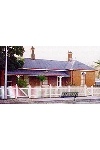 The building is known as the "Sergeants Residence" and was constructed in about 1871. It adjoins the police complex. The museum contains many aspects of the social life of this area; including an early bedroom, an early dining room, an early kitchen, two rooms depicting aspects of early life in this area, part of the early courthouse, a chemist shop, a hospital room, a blacksmiths shop and an agricultural machinery exhibit.
Address:
35 Stornaway Road, Queanbeyan, NSW
Hours:
Each Sunday from 2-4pm (closed during Winter months)
Admission:
$2 Adults, 50c Children, $5 for a family
Facilities:
Brochure available, toilet facilities, guided tours for groups by arrangement, a distinguished speaker on 3 occasions each year, guided tours on Sunday afternoons.
Collection:
An historical collection of Queanbeyan and district, ranging back well into the 1800's. This collection is strictly applicable to Queanbeyan and district.
Items
Iron Lung
Iron Lung
Description:
This is an actual Iron Lung used during the Polio epidemic earlier this Century.
The Iron Lung was used at the Queanbeyan District Hospital and was donated by the hospital to the museum.
Bullet Proof Vest
Copy of Ned Kelly's Bullet Proof Vest
Creator:
The producers of the film entitled "Ned Kelly".
Description:
The vest consists of a number of pieces and is made of Aluminium and dark coloured.
Date:
Early 1970's Approx.
Piano
Piano
Description:
A small sized piano used by the famous wheat breeder, William Farrer who lived at "Lamb Rigg", a property near Queenbeyan.
Donated to the museum by one of the late Mr Farrers relatives in Sydney.
Wedding Dress
Wedding Dress
Description:
This item was donated by Miss Monica Tanbey and the dress was used by her Great Grandmother at her wedding. It is over 100 years old.
Accounting machine
Creator:
National Cash Register Company
Description:
An early accounting machine used by the Queanbeyan City Council, from about 1858 to 1970.