Riversdale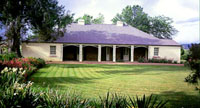 Riversdale, built about 1840 as a coaching inn and residence is a fine example of a single-storey Colonial Georgian cottage set in flowering gardens. The property was purchased in 1875 by Edward Twynam, later to become Surveyor General of NSW and remained in this family until acquired by the Trust in 1967.
Address:
Maud Street, Goulburn, NSW
Admission:
Adults $5.50, Children under 12 free, school children (groups) $2.50, Garden visit $3.30 - A minimum fee of $20 will apply
Collection:
Riversdale is renowned for its collection of fine Australian Colonial furniture, arts and craft dating from the late nineteenth century and the delightful garden.