Justice and Police Museum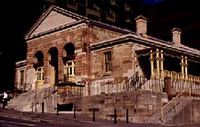 The museum inhabits two colonial courthouses and a Police Station built between 1856-1886. It contains the historic NSW Police Museum collection which was established in 1910.
Address:
8 Phillip Street, Sydney, NSW
Hours:
Saturday & Sunday 10.00am - 5.00pm, During January open Saturday - Thursday 10.00am - 5.00pm.
Admission:
Members Free, Adult $7.00, Concession/Child $3.00, Family $17.00.
Facilities:
Ramp access to ground floor only, braille, large print, audio guides, education programs, mock trials, exhibition, small shop, venue hire.
Collection:
Many of the artefacts concern crime, social history, Police, law and popular culture from bongs to batons to Judges wigs and bushrangers' firearms. It also showcases weird and wonderful relics from notorious crimes such as the Shark Arm Murder, the Pyjama Girl Case and the Thorne Kidnapping, as well as many original objects associated with such legendary bushrangers as Frank Gardiner, Ben Hall, Captain Moonlite and Ned Kelly. The collection contains 5,000 objects, 3,000 photographs, 20,000 glass plate negatives.