The Purse Museum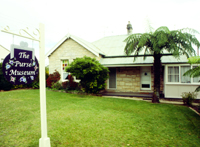 The Museum is housed in one of Katoomba's historic sandstone residences. Situated half a kilometre from Echo Point, The Three Sisters and The Scenic Railway, the Museum is on all mountain scenic bus routes.
Address:
277 Katoomba Street, Katoomba, NSW
Hours:
Thursday - Sunday, Public & School Holidays (except Tuesday) 10:00am - 4:00pm.
Admission:
Adult $6.00, Child $2.50 (10-14yrs), Concession $5.00, Students $4.40
Collection:
The Museum's collection of purses and handbags dates from 1650 to the late 1900s and shows examples of fashion excesses and trends. There are over 400 items in the collection demonstrating many craft techniques such as beadwork, crochet and embroidery.
Items
Telephone Handbag
1970's Kitsch Handbag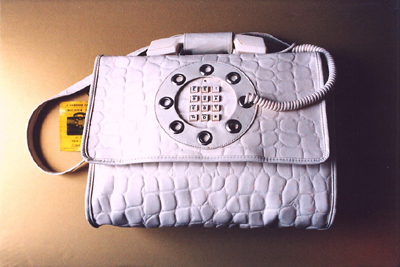 Creator:
made in China for the American market
Description:
White mock crocodile skin patterned vinyl shoulder bag with telephone dial and push button numbers on the front flap. Hand receiver attached with 'Velcro' as bag handle. The telephone bag can be plugged into a land line and used as a conventional telephone.
United States of America, China
Armadillo's Body Purse
Animal Skin Purse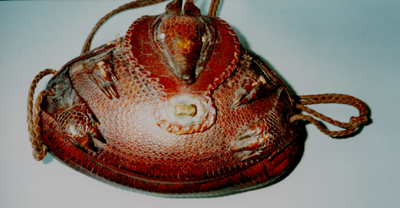 Description:
Small armadillo's body used as a purse. Includes paws and the head of the animal. Closes with metal turn buckle.
Texas, United States of America
17th Century Man's Purse
Man's Leather Purse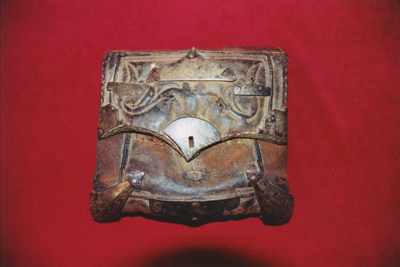 Description:
Man's leather envelope style purse on a belt threaded through a placket on the back of the purse. Iron tooled edges to purse corners. It has an iron clasp which is incomplete. Reputed to be a Spanish merchant's purse.