Rose Seidler House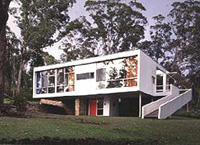 Rose Seidler House was built between 1948 and 1950 and was the first commission for internationally renowned architect Harry Seidler. It features open planning, minimal colour schemes, mod cons and appliances. The original furniture is one of the most important post war design collections in Australia.
Address:
71 Clissold Road, Wahroonga, NSW
Hours:
Sunday 10.00am - 5.00pm, Closed Christmas Day and Good Friday.
Admission:
Members free, Adult $7.00, Child/Concession $3.00, Family $17.00.
Facilities:
Ramp access to all areas, guided tours, education programs, special events, venue hire.
Collection:
The Living and Dining Rooms feature original 1950s furniture and a minimalist interior.
Items
Chair
Womb Chair
Description:
Grey wool chair with splayed seat and low flat arm rest, by modern 20th century designer.