Sexton's Cottage Museum and St. Thomas' Rest Park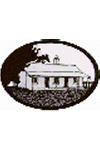 Sexton's Cottage if a historic building within the grounds of St Thomas Rest Park. This is the former St Thomas' Cemetery, the first European burial ground on Sydney's North Shore. The cemetery was converted to a Rest Park in 1974. The Museum (Sexton's Cottage) was built in the 1850s for use by the church sexton. It now houses the burial register, storyboards depicting the site's history and other information on the social history of the area. The cemetery features the graves of early pioneers.
Address:
250 West Street, Crows Nest, NSW
Hours:
1pm-4pm Thu, 2pm-4pm 1st Sun of each month
Facilities:
Guided tours of the Rest Park formerly St Thomas' Cemetery
Items
Burial records
St Thomas' Cemetery Burial Register
Creator:
St Thomas' Church
Description:
A chronological record of St Thomas' Cemetery burial records from 1847 to 1950.
Item Id Number:
LH REF 929.5/SA1