Sir Hermann Black Gallery & Sculpture Terrace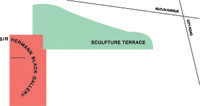 The Sir Hermann Black Gallery & Sculpture Terrace is owned and run by the University of Sydney Union. The University of Sydney Union is unique in New South Wales in being the only student body to maintain a gallery, sculpture terrace and a large art collection. The Gallery & Sculpture Terrace was established in 1994, and is located on the main campus of Australia's first university, the University of Sydney.
The Gallery runs a regular exhibition program of contemporary Australian and international art, as well as exhibitions of selected works from the Union's 90 year old art collection. Exhibitions in the Gallery space are complemented by outdoor sculpture exhibitions on the Sculpture Terrace, situated on a spacious balcony five floors above City Road. Each January the Terrace becomes a significant participant in an annual expose that includes twelve galleries displaying sculpture from the city to Campbelltown.
Address:
Level 5 Wentworth Building, Butlin Avenue & City Road (entrance Butlin Avenue) University of Sydney, Sydney, NSW
Hours:
Tuesday - Saturday 11:00am -4:00pm
Collection:
The University of Sydney Union Art Collection was started in 1913 and numbers over 500 paintings, photographs, prints, drawings and sculptures by Australian and some international artists. The majority of the collection is on public display in the Union buildings on campus, in keeping with its main aim to improve the quality of campus life for students.