University of Sydney War Memorial Carillon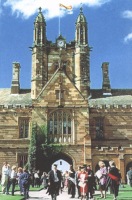 The University of Sydney War Memorial Carillon commemorates the 197 undergraduates, graduates and staff who died in the Great War of 1914-1918. It was paid for by private subscription (inside and outside the University) and was dedicated on the afternoon of Anzac Day, 25 April, 1928, by visiting English carillonist, Mr. Bryan Barker.
Address:
Clock Tower, Main Quadrangle, University of Sydney, Sydney, NSW
Hours:
Recitals every Sunday 2.00pm and on Tuesdays during University term 1.00pm - 2.00pm. Visitors are welcome to inspect the bells after recitals.
Facilities:
Recitals by arrangement, email reminder of upcoming recitals, program looklets, brochures, historical books, CD, cassette, postcards at Chancellors Committee Shop, Information Office under Clocktower.
Collection:
Originally the Carillon consisted of 62 bells giving 49 notes. In 1973 the top bells were returned to the original founders for recasting, and at the same time five additional small bells were cast. The rebuilt Carillon now has a total of 54 bells and a range of 4 1/2 octaves. There are also two Claviers (keyboards), one of which is a practice clavier. The bells are stationary, and are struck by internal clappers controlled by one player at the clavier, using both hands and feet.