UNSW Art Collection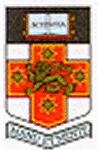 The collection focuses on Australian art post 1949, covering paintings, prints, drawings, sculpture, textiles, ceramics and photographs - all relating in some way to activities of The University of New South Wales. There is also an extensive collection of Aboriginal bark paintings and a small holding of nineteenth century Japanese block prints. All artworks are displayed throughout the University buildings.
Address:
Curatorial Office: 1 Eurimbla Avenue, Randwick, NSW
Facilities:
Wheelchair access, shop, library, guided tours, education programs, lecture hall
Collection:
Approximately 1,200 items
Items
Bark painting
Yinarnga, the Rainbow Serpent
Creator:
Peter Marralwanga
Description:
Ochres on eucalyptus bark depicting serpent and kangaroo.
Item Id Number:
UNSWBP77/0044
Sculpture
Aspects from time (maquette)
Creator:
Augustine Dall'Ava
Description:
Six hinged screens of painted steel, stones, 15cmH by 30cmW.
Item Id Number:
UNSW S81/0568
Ceramics
Still Life With Blue Bowls
Creator:
Gwyn Hanssen Pigott
Description:
Seven pieces of wood-fired porcelain, matt glazed: 3 bottles, 2 bowls and 2 straight sided beakers.
Item Id Number:
UNSW CE95/0684:1-7
Painting
Wolf Crater
Description:
Natural pigments with acrylic binder on Belgian linen depicting land map.
Item Id Number:
UNSW P96/0732
Etching
The Port Liardet Limner
Description:
Tetradych etching in black ink depicting large ship leaving port, industrial landscape and bridge at Port Melbourne. 119cm by 360cm.
Item Id Number:
UNSW PR 95/0662:1-4