Pine Creek Railway Precinct
The precinct is of great historical and architectural significance. Built in 1888/89 it was a temporary terminus to an incomplete Transcontinental Railway. It is of cultural significance as the social and economic focal point of the town of Pine Creek for over eighty years. The precinct includes a restored steam locomotive and rolling stock and is indicative of the design and technology of the 1880s.
Address:
Main Terrace, Pine Creek, NT
Hours:
Apr-Oct daily 8-3pm, Nov-Mar by arrangement
Admission:
Free to children, pensioners, and National Trust Members. $2.20 Adults.
Facilities:
Parking, BBQ, Picnic area, Car/bus access, toilets, Guide/guide material available, guide dogs allowed, Souvenirs.
Collection:
An area of historical and architectural significance which was the social and economic focal point of the town for over 80 years. Railway memorabilia inside the station is on loan from museums and art galleries in Darwin.
Items
Crane
Railway Crane used in Pine Creek until the railway closed in 1976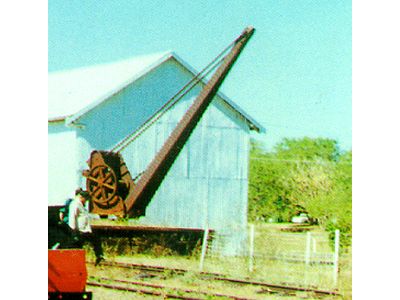 Shed
Washing Shed
Description:
Railway train washing shed built in Middles Borough England
Moved to Pine Creek from Darwin in 1993 to house the steam engine.
Railway Engine
Steam Railway Engine #5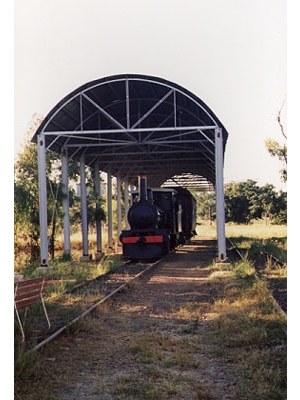 Creator:
Beyer Peacock and Co Gorton foundry in Manchester, England. Constructed 1877.
Description:
The steam engine was used on the Darwin to Pine Creek Railway from 1915-1945 and could pull a 140 tonne load on its run.
Pine Creek Council has applied for funding to restore the engine to working condition.