Bribie Island Community Arts Centre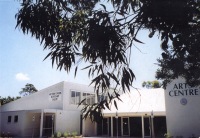 Set in 63 hectares of natural bushland, the Bribie Islands Community Arts Centre has a collection of permanent artwork. It also has changing exhibitions of contemporary painting and craft work.
Address:
Sunderland Drive, Bribie Island, QLD
Admission:
Free except on special events
Facilities:
Wheelchair access, car and bus parking, shop, library (lending and reference), guided tours, education programs, art tuition, lecture hall, meeting rooms, pottery kilns, woodcraft workshops (lathes etc.), catering facilities and garden courtyard
Collection:
Studies from both Dale Marsh Bribie island Murals, Aboriginal and local artefacts, gifted works from past members. Mathew Flinders Bicentenary Memorabilia.
Items
Model of HM Sloop "Norfolk"
"Norfolk" Under M Flinders Command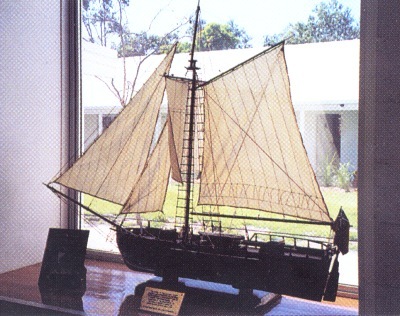 Description:
Presented to the Matthew Flinders Gallery by Caboolture Shire Council at Bicentenary of M Flinders landing here.
Date:
1999 Bicentennial Celebrations
Bribie Island, Queensland
Sculpture
Matthew Flinders (Sandstone)
Description:
Presented to the M. Flinders Gallery by the Sculptor for the opening of this Bicentenary Gallery. Surrounding Timber and Plaque explaining history.
Bribie Island, Queensland
Oil Studies
Bribie Island Mural 1 & 2
Description:
We have two large oil studies plus smaller head studies done for the first and second Murals which welcome visitors to the island. Major work is located close to bridge to mainland.
Bribie Island, Queensland