Physics Museum
Collection of scientific instruments relating to or depending on physical principles as well as associated books and catalogues
Address:
Parnell Building St Lucia Campus, The University of Queensland, St Lucia, QLD
Hours:
1-2pm, Wednesdays during teaching periods
Facilities:
Web catalogue available, tours by arrangement, reference library
Collection:
Most of the instruments date from the first quarter of the Twentieth Century, with Cambridge (Scientific) Instrument Company being well represented, Optical and electrical instruments comprise the majority of the collection, but most area of physics are represented.
Items
Oscilloscope
Cathode Ray Oscillopscope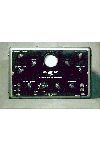 Creator:
Amalgamated Wireless (Australasia Ltd)
Description:
Type R6673, serial number 4. An early Australian made cathode ray oscilloscope of primitive appearance and performance
Photometer
Flicker Photometer
Creator:
Max Kohl, Chemist
Description:
Used to visually compare the brightness of two light sources
Microscope
MSL microscope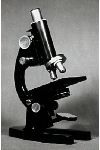 Creator:
Munitions supply laboratories, Melbourne
Description:
Student microscope produced after WWII by laboratories set up for wartime production of gunsights and other military optical equipment
Reference H C Bolton, Aust. Phys 27, 3l 31-43 (1990)
Boys Radiomicrometer
Boys Radiomicrometer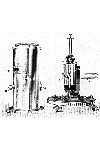 Creator:
Cambridge Scientific Instrument Co Ltd
Description:
Instrument has mirror and thermocouple and coil on a quartz fibre suspension between poles of a horseshoe magnet. Sensitive detector of thermal radiation.
Could detect candle flame at two mile range
Electrodynameter
Sumpner Reflecting Electrodynamometer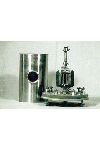 Creator:
Robt. W Paul, London
Description:
A circular ebonite base with three levelling feet carries a reflecting galvanometer with its coil suspended between the poles of an electromagnet.
Used by first lecturer in physics at the University of Queensland, Thomas Parnell in work leading to first research publication in Physics at the University.