Queensland Military Museum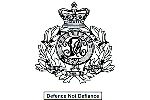 The locality holds over 5000 items relating to Queensland military heritage. It is an all volunteer organisation and includes a research centre and library. Assistance in genealogy and research is offered to the public free of charge. The society is also involved in presenting displays at community festivals, fetes etc.
Address:
28 Church Street, Fortitude Valley, QLD
Hours:
12-4pm Sundays, 9-12pm Tue & Fri, Group Visits by appointment
Admission:
Adults $2, Children (over 5) $1, Family $5
Facilities:
Wheelchair access at rear of building, fully licensed club facilities (no poker machines), research and library centre, book and souvenir shop, membership open to anyone interested in military history and heritage, Individual $15, Corporate $30 - newsletter distributed monthly to members.
Collection:
The collection includes a wide range of Queensland related military heritage such as: Uniforms, Firearms, Photographs, Medals, Documents and Flags.
Items
Uniform
QDF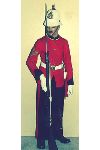 Creator:
Queensland Woollen Mills
Description:
Uniform, scarlet tunic, white cloth helmet, Martini-Henry rifle and bayonet
Worn by sergeant Ernest Nunn, first Queenslander (Moreton Regiment)
Uniform
VDC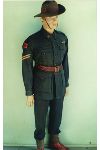 Creator:
Allan and Stark, Brisbane
Description:
Corporal of the Australian Volunteer Defence Corps
The VDC was raised by the Returned Services League as Australia's "Home Guard". It consisted mostly of WWI veterans.
Uniform
Tunic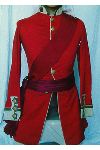 Description:
Scarlet, Lieutenant's, 82nd Regiment of Foot
Tunic of Lieutenant Graham Mylne, 82nd Regiment of Foot (The Prince of Wale's Volunteers) who migrated to Queensland following the Indian Mutiny
Flag
Regimental Ensign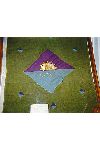 Creator:
All Hallows Girls School, Brisbane
Description:
Green cotton with six small 26th Battalion, AIF, colour patches with central large patch with embroidered "Rising Sun" and ANZAC
Manufactured by the girls of All Hallows, was sent to the 26th Battalion, AIF, in 1916 and flown at battalion headquarters in France and Belgium from then to 1918
Bass Drum
42nd Australian Infantry Battalion, AIF, WWI Drum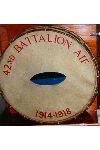 Description:
Used in France and Belgium by the Band of the 42nd Battalion AIF. Battalion battle honours are attached to the drum.
Until lodged with the society the drum was used at the saluting site for Brisbane ANZAC Day parades to sound the "beat" for marching veterans.