Queensland Performing Arts Centre Museum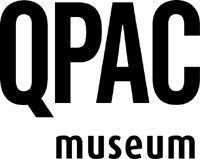 The Queensland Performing Arts Centre Museum is the home for Queensland's performing arts heritage collection. Located within the Performing Arts Centre at South Bank, Brisbane, the QPAC Museum presents a changing program of theatrically designed, free exhibitions in the Tony Gould Gallery and throughout the foyers of the Centre. A research service is available and access to the collection is provided by appointment.
Address:
Performing Arts Centre, South Bank, QLD
Hours:
10.00am - 4.00pm Tuesday to Saturday
Facilities:
Research services, museum shop
Collection:
QPAC collects material about the performing arts in Queensland including costumes, set models, designs and drawings, photographs, programs, artefacts and recordings. To explore the Queensland Performing Arts Centre Museum's collection go to http://amol.org.au/collection/collections_index.asp or click on "Open Collections" at the bottom of this page and type in Queensland Performing Arts Centre Museum in the search field.
Items
Costume
Chu Chin Chow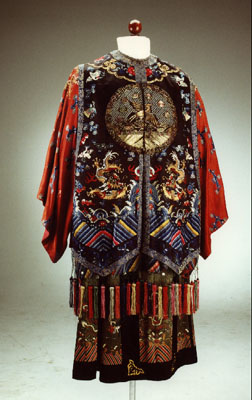 Description:
Chinese dragon robe worn by the robber Abu Hassan disguised of the same name. Purportedly worn by Oscar Asche.
Item Id Number:
1991.0001.0001
Photogram
Ghosts
Creator:
Christophe Ellis
Description:
A photograph from the production shoot of the RQTC's production of "Ghosts". Part of the "Christophe Ellis Photographic collection" recording Brisbane theatre during the 1980's.
Item Id Number:
1998.0043.0320
Costume
Lucia Di Lammermoor - Lucia Act 2:2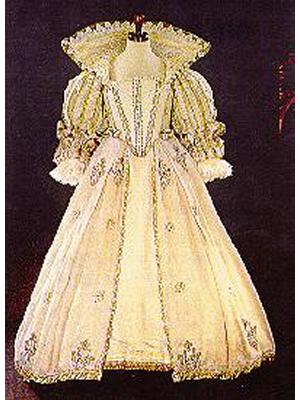 Creator:
Designer: Tonina Dorati; Maker: Barbara Matera
Description:
Seventeenth century style grey organza and satin gown worn by Joan Sutherland in Domizetti's opera "Lucia Di Lammermoor" at Her Majesty's Theatre, Brisbane in 1965.
Item Id Number:
1995.0014.0007
Fan
Fan from "The Geisha"
Description:
Peacock feather fan with painted Japanese scene, used by Maie Grew in the Brisbane Amateur Operatic Society's production of "The Geisha".
Item Id Number:
1994.0008.0001
Program
Theatre Programs
Description:
The image represents a collage of theatre programs from the Museum's collection dating from the 1900s.