Cairns Regional Gallery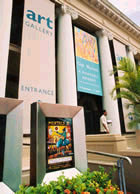 Cairns Regional Gallery is Far North Queensland's only visual art museum and in 2005 it celebrates it's 10th Birthday: a decade of documenting and presenting history, heritage and contemporary culture of this vast and distinctive region of Australia and the world through the visual arts, craft and design.
Housed in a refurbished heritage building in central Cairns, the Gallery incorporates four individual exhibition spaces inside the building, showcasing an average of 30 exhibitions per year, and featuring the work of national and international artists, with a strong focus on local and indigenous works of art.
The Gallery is also accompanied by a stylish gift shop and café. The Gallery Shop has a wide range of functional, artistic, local and designer gifts at a variety of prices, the Gallery Shop can make finding that perfect gift an enjoyable journey.
Located at the front of the Gallery is the highly acclaimed café, Perrotta's. Discover the tantalising flavours, superb beverages and excellent service the local food critics rave about, it is the perfect way to conclude and relax after your visit to the Gallery.
Exhibitions change every four to eight weeks ensuring there will be something new to see every time you visit, with displays ranging from paintings, to sculpture, installations, photography and prints. A stimulating program of workshops, lectures and special events are held regularly to compliment these exhibitions.
Cairns Regional Gallery is a limited liability and non-profit organisation, and is a controlled and funded entity of Cairns City Council.
It is the dynamic combination of the region's cultural diversity, tourism and the distance from Australia's capital cities that sets Cairns, and the Cairns Regional Gallery, apart from other regional arts centres.
Address:
Corner of Abbot and Shields Streets, Cairns, QLD
Hours:
Monday - Saturday 10:00am - 5:00pm; Sunday & Public Holidays 1:00 - 5:00pm
Admission:
Adult $5.00, Child under 16yrs Free, Guided tour $2.00 (must be booked in advance)
Facilities:
Disabled Access, Disabled Restrooms, Parents Room , Reading Room, Guided Tours (by appointment), Practical Artist Workshops and Fine Art Classes (by booking only), Gallery Shop, Gallery Cafe
Collection:
Cairns Regional Gallery recognises that one of its fundamental roles within the cultural industry of Far North Queensland is to develop and retain a high quality collection of works of art for the enjoyment of the current and future generations. The Gallery's Board of Directors passed the first policy regarding a Gallery Collection in December 1998 and since that time Cairns Regional Gallery has acquired over 250 works of art. The Gallery's Collection serves a dual role – the protection, preservation and presentation of the work of local artists, and to retain works of art of state, national and international artists, which depicts content of regional relevance and value to Far North Queensland. Following is an excerpt from the Gallery's Collection Policy: "Cairns Regional Gallery will primarily collect works of art in all conventional and experimental media and from any time period, by artists from the Far North Queensland regional and other artists influenced of inspired by the region. The Gallery will also collect art from outside the (Far North Queensland) region by artists of state, national and international significance. This additional collecting focus will ensure the community has access to a high quality, reference art collection. It is intended the Cairns Regional Gallery Collection will provide the basis for future research, exhibition and educational programs and the overall cultural enrichment of the various communities of the region."