Museum of Tropical Queensland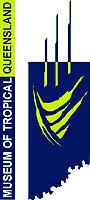 The Museum of Tropical Queensland displays artefacts from the HMS Pandora, wrecked on the northern Great Barrier Reef in 1791 after capturing fourteen Bounty prisoners from Tahiti. It also houses a life-size replica of the Pandora bow. Other highlights are an interactive Science Centre, a brilliant selection of the world's best Coral collection from the Great Barrier Reef. Other major research collections are of marine mammals, dinosaur fossils and deep-sea animals from North Eastern Australia. Several displays in the museum focus on artefacts of indigenous people of the tropics, as well as stories of labour and settlement from people of other countries, showing the diverse mix of cultures that make up the population in North Queensland.
Address:
70-102 Flinders Street, Townsville, QLD
Hours:
9.00 - 5.00pm daily, 2.00 - 5.00 pm Anzac Day. Closed Christmas Day and
Good Friday
Admission:
Adult $9, Children $5, Concession $6.50
Facilities:
Wheelchair access, shop, library, education programs, gallery guides, toilets, refreshments nearby; tours by appointment
Collection:
29,200 specimens registered or accessioned. Major Taxa: Corals, marine, deep-sea fauna/ Invertebrates/ Vertebrates/ Paleontology, artefacts from the Pandora.