Stanthorpe Museum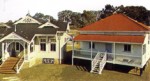 The Heritage Museum has been operated by the Stanthorpe and District Historical Society since 1970.
The complex contains Ardmore House (1920s), the old shire council chambers, Wilson's Downfall gaol, the former North Maryland school house.
Displays also include tin mining, a stationary steam engine, war memorabilia and 'Made Do' exhibits including the Ballandean Station Shepherd's Hut (1842).
Address:
12 High Street, Stanthorpe QLD 4380, Australia
Hours:
Wednesday to Friday 10am to 4pm,
Saturday 1pm to 4pm and Sunday and most public holidays 9am to 1pm.
Collection:
Extensive Collection Unique to the Granite Belt
fruit Industry, Italian influence, Photographic, Toys & Sport, Tin Mining, Textiles, "Make-do", Grazing, Military, School Room, Medical Display, Local Memorabilia.