Quilt No.102QWH - The Queensland Women's Historical Assoc.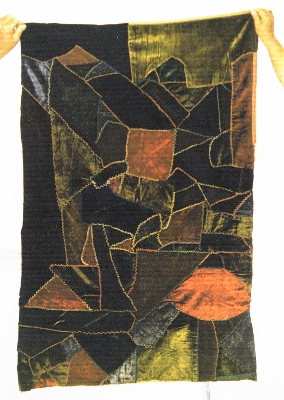 Owner:
The Queensland Women's Historical Assoc.
Description:
Crazy patchwork quilt in velvets with cotton backing. "Possibly the maker intended to have a final backing layer." [Q.W.H.A.] Herringbone stitch in a silk thread is embroidered over the joins of the velvet pieces.
1372 x 864mm
Related Quilts:

Hexagonal piece of patchwork made up of 9 rows of rosettes of hexagons in a wide variety of colours and patterns mainly in silks and velvets. It is incomplete. Backing papers are still in the outside rows and also basting threads. Hexagons are joined by fine whip stitching. It is unlined.
1370 x 1220mm

Machine sewn quilt made from 125mm squares of scraps left over from dressmaking, joined in strips and then the strips joined. There is a border of fawn cotton and the backing is the same material. The padding is an old blanket and the border is padded with sheep's wool.
1400 x 925mm

Suffolk Puff quilt made from a variety of scraps of dress materials including cottons and terylene. It is backed with white cotton sheeting and edged with a frill of white terylene. There is a matching pillow sham.
1740 x 1300 mm.

Machine constructed log cabin quilt using a wide variety of strips of used clothing including cottons, men's suitings and wools. Each square is about 250mm and arranged in the 'light and dark of the fire' variation of log cabin. There is no padding. The backing is brown twill with an orange pattern and is probably a replacement backing.
2180 x 1710mm

" This well worn quilt is of pieced diamonds set into squares (221 make up the quilt). Thick woollen fabric has been used for the pieces. These are with plain dyed fabrics or tartans and checks. All work on the quilt is hand sewn. The quilt was lined with a fine blue cotton." [NGA] The quilt is not padded. 1835 x 1400mm

Hexagon quilt with rosettes centred in an all over diamond pattern. It is hand pieced and hand quilted. All the materials are either linen or pure cotton. The quilt is padded with batting (American) and the backing is floral cotton.
2360 x 1800mm