Quilt No.285HJ - Helen Jarmyn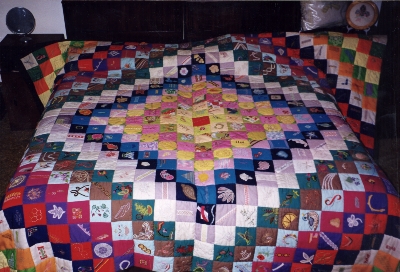 Description:
Patchwork quilt made in the 'Trip Around the World' pattern, from cottons and some fine dress linen, in bright and pastel solids. Each colour is placed in a diamond shape on the quilt. Patches are 10cm square, quilt has 620 squares. The linen was mainly used to work the cross stitch. Quilt has a 2 inch border in black. Backing is sheeting. Each square is embroidered, with many different stitches, in geometric, floral, animal, insect and abstract designs, in different colours.
2760 x 2350mm
History:
Made by the owner, Hazel Jarmyn, in 1974-1975 in Adelaide (SA).
Story:
"I am Australian Born in a Northern Town Named Booborowrie in my Grand Mother's House and have always been a very keen needle person. I love to sew as well as other needlework, including Tatting and Bobbin lace. I lived on the same Farm until 1979 when we moved to the city in semi retirement and taught all sorts of needlework for 25 years. Foundation member of the Australian Lace guild in Sth Aust, and still like to do all kinds of work."
Related Quilts:

Patchwork quilt or table covering dark and light silks in bright colours, pieced from diamond shapes into stars with black patches between the stars. Plain and patterned silks are used for the stars. Border is made from a single row of Tumbling Blocks in plain silks with an edging on each side of truncated black diamonds on blue on the inside, orange on the outer edge. There is a star pieced of diamonds in each corner. Hand sewn.
1830 x 1800mm

Quilt top of cottons including shirting materials constructed in kaleidoscope pattern with star border. Hand pieced over papers, some papers remain at edges. There is no padding and no backing.
2440 x 1720mm

Wool patches in large Tumbling Block pattern. Plain colours, blues, orange, gree, red. Seams are over embroidered with silk thread in herringbone stitch. Backing is 'Molleton', red with yellow pansy design.
2490 x 2236mm

Quilt is made of wool tailors' samples, each measuring 6 x 3 1/2 inches. The colours are predominantly navy and grey. Most pieces are striped but some more distinctly than others. Both sides are mad eof smaples, one side being mainly grey and the other almost exclusively navy. There doesn't seem to be another layer of material as padding. There is no added decoration. Made on a treadle sewing machine.
1703 x 1423mm

Double sided machine sewn patchwork quilt made from clothing scraps, wool blends, corduroy, velvets. Patterns include checks and tartans and there are many plain colours. Shapes are mainly rectangles and squares.
1524 x 1372mm

Frame quilt in cottons with a centre motif of pieced 8 point star surrounded by borders, 2 from red/white material printed to represent Tumbling Block patchwork. The remaining borders are, one plain, one of pieced squares, one of pieced large triangles with squares in the corner. The outer border is plain. The padding is wool and the backing is cream cotton. It is elaborately quilted.
2400 x 2260mm