Quilt No.285HJ - Helen Jarmyn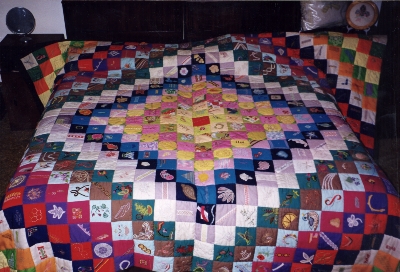 Description:
Patchwork quilt made in the 'Trip Around the World' pattern, from cottons and some fine dress linen, in bright and pastel solids. Each colour is placed in a diamond shape on the quilt. Patches are 10cm square, quilt has 620 squares. The linen was mainly used to work the cross stitch. Quilt has a 2 inch border in black. Backing is sheeting. Each square is embroidered, with many different stitches, in geometric, floral, animal, insect and abstract designs, in different colours.
2760 x 2350mm
History:
Made by the owner, Hazel Jarmyn, in 1974-1975 in Adelaide (SA).
Story:
"I am Australian Born in a Northern Town Named Booborowrie in my Grand Mother's House and have always been a very keen needle person. I love to sew as well as other needlework, including Tatting and Bobbin lace. I lived on the same Farm until 1979 when we moved to the city in semi retirement and taught all sorts of needlework for 25 years. Foundation member of the Australian Lace guild in Sth Aust, and still like to do all kinds of work."
Related Quilts:

Double sided quilt machine made from clothing scraps. Shapes are mainly rectangles in corduroy and wool blend. The padding is an old grey blanket.
1524 x 1372mm

Patchwork quilt made from hexagons 63mm across in a variety of cotton prints and plains. The bright coloured patches came from children's clothes and dressmaking scraps. The 'set included a large cot cover, a pillow cover and a circular stool cover. No padding. Backing of unbleached calico. Hand sewn.
2300 x 1840mm

Quilt top, all cotton. Center frame is 600mm square of calico on to which is appliqued red material in an elaborate cut out design. Radiating rows of mainly red and blue triangles. Other materials include, white with abstract plants scattered across it, pink with pin print white dots, white and maroon herringbone with small white flowers with maroon leaf sprays spread 25mm apart. The border is a strip of red not hemmed but with selvedges on the long sides. The quilt is all hand sewn with small back stitch, running stitch and hemming.

Patchwork quilt made of hexagons in silks, satins and brocades. Colours are soft, mainly creams and pastels, with some deep pink, yellow, dark grey and bright blue. Quilt is bordered with a wide band of light navy moire or faille. Padded, possibly with a blanket. Backed with cotton twill.
2420 x 1900mm

Crazy patchwork quilt made from pieces of silk, velvet, silk ribbon and brocade in a variety of patterns and plains, in a range of colours. All patches are edged with embroidery, in blanket, feather, herringbone and other stitch variations. Many patches are embroidered with flowers, butterflies, leaves and initials of family members, and there is some beading. 1901 is embroidered in one corner. Quilt has a wide border of gold velvet. Patches are stitched to a base fabric. Backing is dark green sateen.
1470 x 1060mm

Cotton patchwork quilt in double wedding ring pattern in pastel prints. Quilted in a design of geometric flowers. Padding is probably cotton wadding, backing is cream calico. 2270 x 1970 mm.