Quilt No.1038KC - King Cottage Museum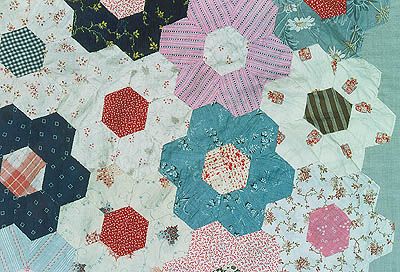 Description:
Hand sewn hexagons over paper templates in a pattern known as 'Grandmother's Flower Garden'. Materials are printed dress cottons, patterned and plain, mainly in pinks, blues and browns. The border and backing is grey linen and is machine stitched on. There is no padding. 2060 x 1579 mm.
History:
The quilt was made by Rose Elizabeth Walker (born Carey) in about 1897. Rose married John Walker, a lawyer, in 1902. The quilt was donated to the King Cottage Museum by Mrs. Edwin Eastman. It is displayed occasionally for brief periods.
Related Quilts:

Quilt made of tailors' swatches, machine constructed around a central frame that is mainly mid brown pieces. This is surrounded by rectangles of mainly charcoal greys and the outer border is navy blues. The backing is a heavy cotton with random green and cream and grey stripes.
1651 x 1220mm

Quilt with hexagons forming lozenge or honeycomb pattern. Predominantly greens and pinks in brocatelle (rayon brocade). All hand stitched. The backing is lime green rayon. The padding is probably dacron.
1800 x 1630mm

Crazy patchwork quilt, mostly velvet, with two rectangular frames or borders of green fabric. All patchwork pieces have embroidery over the seams, mostly herringbone. Quilt is edged with a cream cotton ruffle. Cotton backing.
1625 x 1625mm

Crazy patchwork quilt made from silk, cotton and velvet in pastels and rich dark colours with a wide border of dark burgundy silk velvet. Decorative embroidery stitches including straight, herringbone and feather edge each piece. Most pieces have embroidered motifs including crown, flowers, horseshoe and Australian motifs of wattle and emu. Date '1891' worked in cross stitch on one piece. The padding is wool and the backing dark red satin and these are joined by diagonal machine stitching in yellow thread.
1750 x 1100mm

Hand pieced hexagon quilt in pattern known as 'Grandmother's Flower Garden". 12 hexagons, in patterned cottons, form the outer border of each flower with an inner border of 6 matching plain coloured hexagons and all flowers have a yellow hexagon centre. There is no padding, a cotton backing and it is hand quilted.
2400 x 1780mm.

Hexagons appliqued onto sheeting. 5 groups of 6 hexagons in centre of sheet and continuous row of hexagon rosettes around border.
2261mm x 1664mm