Quilt No.1033NG - Narelle Grieve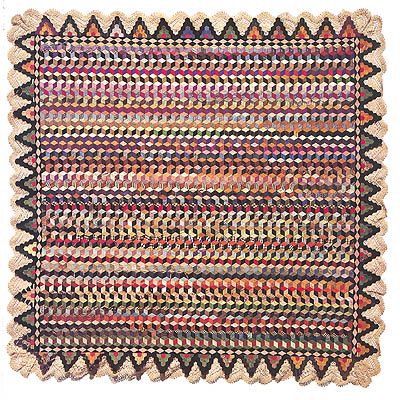 Description:
Silk quilt in diamonds with hexagon border. "Toward the edge of the quilt, the design of diamonds made into blocks offers an optical illusion, where the diamonds can be seen to form stars. The border is made up of these stars and half-diamonds, and the entire quilt is trimmed with lace and triangular flaps made of tiny hexagons." [extract unidentified magazine article supplied by quilt owner.]
The backing is maroon cotton. 1600 x 1600 mm.
History:
The quilt was made by an unidentified sailor c.1846. It was given to Jane Williams of Somerset, England who backed it and sent it to Australia to Annie Smith, her sister-in-law in Sydney. It then passed by family descent to Annie's grandson, John Henderson of Middle Cove, Sydney from whom the present owner, Narelle Grieve, acquired it. It is not used.
Story:
"It was not unusual for the European sailors of previous centuries to engage in the art of quilting. They needed to be able to sew in order to mend their sails, and quilting was a way of passing time while developing their sewing technique. Most sailors were talented needle people, as the fine stitches and intricate design of this quilt demonstrates.
Many of the lands which the sailors visited offered exotic fabrics and the silk used to make the tiny diamonds in this quilt may have originated in India. Papers still contained within the hexagons around the border of the quilt may be able to verify the origin of this fabric. This may also give some insights into the sailor's life and travels, but Narelle explains that she would have to unpick the backing to get to them and that could ruin the frail silk fabric." [extract from unidentified article supplied by the present owner.]
Related Quilts:

Machine sewn reversible quilt. Side 1 is rectangles of men's suiting samples in mainly grey, navy and black, stripes and self patterns. Side 2 is men's suiting samples but also includes woollen rectangular pieces in plain blue and deep pink. There is a hand sewn binding of fine orange-brown wool. The padding is hessian and cotton.
1460 x 1100mm

Hand sewn patchwork quilt with a pattern of blue stars. Each star consists of hexagons in the centre with part diamonds forming the star shape. The quilt is made from scraps. It is not padded and the backing is cotton and has a hexagon star border. 2660 x 2470 mm

The quilt's construction is cotton patches about 170mm square joined in strips and then the strips joined. The border and backing are pale lemon coloured cotton lawn. The padding is an old woollen blanket. There is ric-rac braid around the border of the top.
2180 x 1420mm

Square patchwork quilt made from rectangles of woollen tailors' samples, each patch outlined with machine fancy stitch using red thread. Machine sewn. The backing is a green and white check fabric. No filling.

Patchwork cradle quilt of pieced repeat blocks. All cotton including cotton filling. Pattern is in faded greens and pinks,"4 pointed star" in circles. There are 20 blocks.
991 x 788mm

The top of this utility quilt is machine pieced rectangles of woollen materials joined in strips. It includes corduroys and velveteens and woollen tartan. The backing is an Indian cotton blanket.
1651 x 1271mm