Quilt No.2BH - Beth Hoskins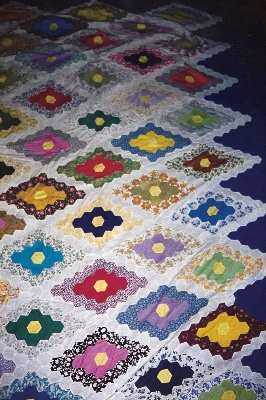 Description:
Cotton hexagon quilt, hand stitched, no filling. All centres, of diamond motifs, are plain lemon. Hand stitched edge on to deep blue backing turned back to the front.
2400 x 1800mm
History:
The quilt was given to Alice Hoskins when she was living in Goulburn, NSW. Alice is the stepdaughter of Beth Hoskins and has temporarily left the quilt with her.
Related Quilts:

The quilt is called 'Loved'. The pattern is log cabin and it is made from dress materials and pyjama flannelette. The original filling was a heavy woollen blanket (now flannelette) and the backing is green headcloth - all government issue. With its restoration, the backing was supplemented with a green floral, and the quilt is now tied. The quilt is machine pieced, some restoration work is done by hand.
2260 x 1920mm

Cotton quilt top in patter, the owner calls 'Tumblers'. Approximately 590 pieces, with one exception, all different patterns and colours. 2181 x 1980

Hexagon quilt made by hand from a wide variety of cotton materials. There is no padding and the backing is calico.
2286 x 915mm

"A medallion or framed quilt in design. There is a central field of small patchwork diamonds, and from this radiates plain stripes of fabric bordering areas of patchwork panels. The edge of the quilt carries bands of red cotton, which are slightly larger at the top and bottom edges, and here the band is additionally decorated with appliqué diamonds. The fabric of the patchwork is cotton in fine plain weave of pale coloured florals and small geometric designs. The framing and border stripes are of bright red twill weave cotton. The small diamonds of the central field are hand sewn, with more use of machine stitching around the outer edge of the quilt.
The quilt is not padded. The patchwork is fully lined with a printed plain weave cotton fabric with a design commemorating Queen Victoria's Jubilee. The design is based on a repeated grid of circles. In the centre of each circle is a cameo of Queen Victoria, surrounded by images of the national flowers of England, Scotland and Ireland: the rose, the thistle and the shamrock. The edge of the front face of the quilt is trimmed with a red and white cotton braid." [NGA] 2380 x 2220mm

Crazy patchqork quilt, handsewn, composed of six large squares of patches in brocade, velvet and silk in random shapes and sizes. Patches are stitched to others by blanket stitch in yellow thread. Some patches have surface embroidery, e.g. a dragonfly, flowers, music notes, and names, 'Minnie', 'Loyetta' (house in Ballarat), 'Diana'. There are also five small cream bobbles. Colours are red, gold, brown, pinks, greens and blues. Padding is flannel, and quilt is backed and edged with maroon or burgundy ribbed silk.
1461mm x 687mm

Patchwork top made of cottons, constructed with 5 by 5 rows of squared 8 point pieced stars alternating with white cross-shaped blocks (made from 4 pieces). On all sides are borders of half stars. The outer border is of rectangles of cotton prints appliquéd on to cotton to form a plaited pattern. The border only is backed with a band of cream cotton. All patches are whip stitched together.
2645 x 2615mm