Quilt No.679AM - Alicia Murdoch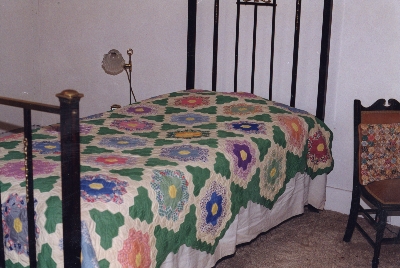 Description:
Cotton quilt entirely of hesagons. Some are formed into rostttes or flowers and have a print border of 12 hexagons, an inner circle of 6 hexagons in a plain colour and a yellow hexagon centre. The padding is cotton wool and the backing plain off white cotton.
2210 x 1430mm
History:
The quilt was made by Alicia Florinda Tye, grandmother of the present owner, in the 1930s probably in America and Melbourne. It is still used.
Related Quilts:

Patchwork quilt with alternate squares of green and fawn cotton headcloth. Various Australian wild flowers are embroidered in coloured threads in the green squares. In the fawn squares there is a stylised flower and leaf pattern outlined in embroidery. The border, front and back is green headcloth. The backing is printed cotton with a floral design. There is some padding.
1610 x 1610mm

Patchwork quilt made from rectangles of mostly woollen fabrics sewn in strips and then stitched together. Fabrics left over from dressmaking projects. Machine stitched. Colours mainly green, purple, blue, pink, pastels, in plain, checks and spots. No padding or quilting. Lining is an old bedspread.
2200 x 1440mm

The suffolk puffs are mainly cotton in a wide variety of colours and plain and patterned materials. The puffs are small squares rather than the more usual circles. The backing is teal satin hand stitched to the top. There is a teal bow at one end. There is no padding.
1570 x 1100mm

Patchwork cradle quilt of pieced repeat blocks. All cotton including cotton filling. Pattern is in faded greens and pinks,"4 pointed star" in circles. There are 20 blocks.
991 x 788mm

Quilt top of cottons including shirting materials constructed in kaleidoscope pattern with star border. Hand pieced over papers, some papers remain at edges. There is no padding and no backing.
2440 x 1720mm

Quilt made of 9120 very small Suffolk Puffs, each one about the size of a 20 cent piece. "Each piece backed and the front of it drawn up like a reticule. It was not backed and was rather fragile, so I backed it on to a sheet, as it was heavy and in danger of tearing when lifted." [Gillian Sullivan]
2360 x 2230 mm