Quilt No.371RB - Roslyn Beattie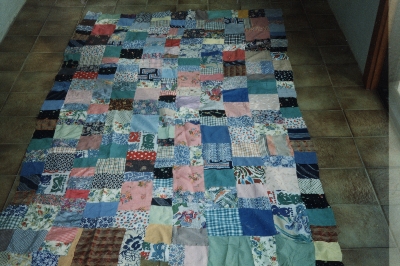 Description:
Patchwork quilt made from different sized rectangles, in new materials, including cotton, lightweight velvet, lining silk, crepe, seersucker, and satin. All fabrics are of even weight. Colours are mainly light, with pinks, greens and blues predominating. No padding or backing. Quilt was not finished.
2050 x 1250mm
History:
Made about 1935 at Gosford NSW by Mrs Julia White (born Hartnet), born in Adelong in 1875. Later owned by her niece Mabel Grady, then by Julia's great, great niece Alma Smith. Now owned by Roslyn Beattie.
Story:
"Julia White was born 1875 in Adelong [NSW]. After the death of her husband Julia supported her son by dressmaking for stores in Gosford. Scraps were used in quilts."
[Roslyn Beattie]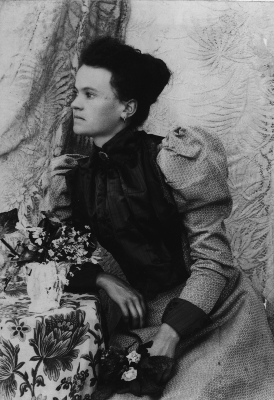 Related Quilts:

Hexagon quilt with rosettes centred in an all over diamond pattern. It is hand pieced and hand quilted. All the materials are either linen or pure cotton. The quilt is padded with batting (American) and the backing is floral cotton.
2360 x 1800mm

Utility quilt hand and machine sewn. The top has a centre frame of hand sewn hexagonal patches in a mix of dress materials and shirtings with four corner flowers and a roughly circular ring in red and blue stripe. The inner border has rectangular pieces in red/yellow/green/white hexagon printed material alternating with a blue/white spot. The outer border consists of large pieces of material, predominantly pink and blue stripes and checks. The backing is mainly red/white printed cotton. It is quilted all over in a diamond pattern. The padding is mainly flannel and has been made from another quilt.
1975 x 1675mm

Crazy patchwork quilt with mainly patterned pieces in a wide variety of designs and colours. Backing is wholecloth patterned cotton. The quilt is edged with a checked bias binding. Machine construction.
2299 x 1449mm

Hexagons appliqued onto sheeting. 5 groups of 6 hexagons in centre of sheet and continuous row of hexagon rosettes around border.
2261mm x 1664mm

Patchwork quilt, all cotton including cotton padding filler. The design is 'Dresden Plate' or 'Friendship Circle'. Background is white with multicoloured and patterned triangular pieces forming circles. Hand stitched and heavily quilted.
2235 x 1778mm

Hand pieced hexagon quilt or table cover with centre motif of hexagons within hexagons. The remainder of the quilt is mainly hexagon rosettes. The materials are silks and brocades and it is pieced over papers in the English tradition.
1710 x 1600mm