Quilt No.314BM - Bill & Barbara Meynink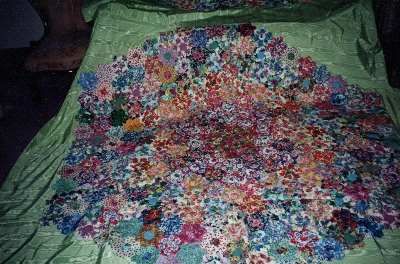 Description:
Patchwork quilt made from brightly coloured printed cotton fabrics in hexagon patches hand sewn together in rosettes, and stitched by machine onto a border of green moire taffeta. No padding. Backing is green cotton satin curtain lining. There is a matching pillow sham.
2591 x 2540mm
History:
Made by Jane Ellen Meynink (born Crothers, 1894-1983) in Brisbane (Qld) who began quilting in her retirement aged 70. The quilt was the 6th of 6 quilts designed and made by Jane. Owned by her daughter-in-law Barbara Meynink (born Campbell). Known as Jeannie's quilt (Jane Ellen's pet name). Used only on "high days and holidays!"
Story:
"This quilt, no 6, replaces no1, which wore out. It was used constantly. Also we got a bigger bed & Jane Ellen offered to make another quilt for us. The quilt was laid out on the floor to decide upon colour placement & arrangement for the overall design. It has an hexagonal centre."
[Barbara Meynink]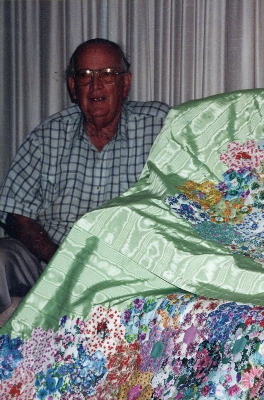 Related Quilts:

Crazy patchwork quilt with small patches in velvet, silk, brocade and cottons most with hand embroidery over the seams. There are many motifs such as flowers, butterflies, birds also dates, initials and names of local properties. It is padded with a thin soft material and the replacement backing (old) is satin. There is a wide rose coloured frill on all sides.
1680 x 1380mm

Patchwork quilt in crazy pattern, with pieces of silks, corded silks and velvets in prints, plaids and plains. Nearly all pieces are edged with embroidery, and many pieces have embroidered names and motifs. There are a variety of embroidery stitches. The backing is of slub cotton in a plaid pattern in yellow, grey, red and white. No padding. Quilt has a gathered edging of dark red organdy and silk. Names and dates embroidered are: Bert, Milly, Toots, Verdi, Ida, and 1893, 1895, 1894.
1550 x 1420mm

Log cabin quilt consisting of 36 blocks each 200mm square. Light and dark arrangement with a variety of small patterned cotton materials (floral, spotted, striped) and plains. The blocks are hand stitched on to fine cotton and then joined by machine. There is a 120mm double gathered frill of floral cotton with a beige background. The backing is 2 pieces of cream cotton with repeat floral and musical motifs interspersed with forget me nots.
1500 x 1500mm

9 large blocks of crazy patchwork in silks and velvets. The blocks are divided by strips of deep ruby coloured silk. There is a wide ruby border with peaks to which is attached cream lace. The backing is beige silk. The main blocks are outlined with feather stitch in gold thread and many individual patches are outlined in fancy stitches and have embroidered motifs some of which are Australian eg centre patch has Sturt's Desert Pea flowers, parrots, wattle. There are also English flowers, Japanese motifs, flags, domestic objects and Marianne's initials. Embroidery is in a variety of threads including chenille.
2250 x 2180mm

Patchwork quilt made from squares of cotton fabrics, from curtains, left over from dress making projects, and new fabrics. Colours are bright primaries and some pastels, prints are checks, florals, stripes and plain. Pieces were stitched together without any particular order. No padding or quilting. Backing is a cotton bedspread in turquoise and blue stripes.
2520 x 1600mm

Patchwork quilt made of hexagons in silks, satins and brocades. Colours are soft, mainly creams and pastels, with some deep pink, yellow, dark grey and bright blue. Quilt is bordered with a wide band of light navy moire or faille. Padded, possibly with a blanket. Backed with cotton twill.
2420 x 1900mm