Quilt No.355AH - Ann Hockey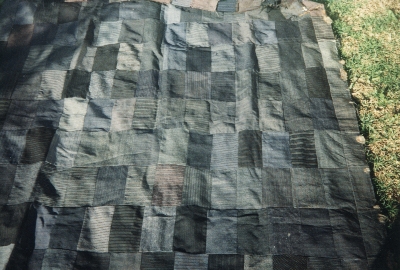 Description:
Patchwork quilt made from rectangles of samples of men's woollen suitings, in greys and blues and some browns. The rectangles were machine sewn together and then sewn in rows or strips. Originally the quilt had a rabbit skin backing, removed due to deterioration. No padding. Machine sewn.
1550 x 1420mm
History:
Made in approximately 1925 by Sarah Hockey at Wendellama (NSW). Owned by her son, Reg Hockey, now owned by his daughter Ann.
Story:
Used on surveyor's gang at Deua River (north west of Moruya, NSW), 1925, and also in the Brindabellas (NSW).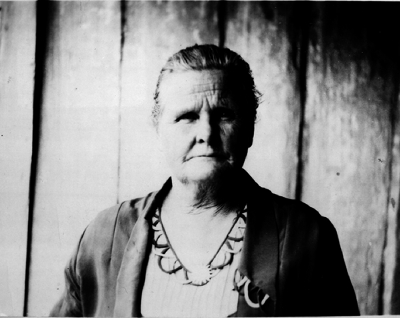 Related Quilts:

Quilt top of hexagonal patches in silk and velvet in colours of brown, black, soft green, maroon, light yellow and blue. Some materials self patterned. Blue backing papers can be seen at edges behind some patches.

Quilt made of 26 x 13 rectangles of woollen men's suiting samples. Each rectangle is about 70 x 130 mm. Wide variety of patterns, mainly stripes, and colous. The padding is part of a worn cream blanket and joined pieces of woollen clothing. The backing is a well worn piece of brushed cotton. Machine made.
11900 x 1870 mm

Machine sewn quilt made from 125mm squares of scraps left over from dressmaking, joined in strips and then the strips joined. There is a border of fawn cotton and the backing is the same material. The padding is an old blanket and the border is padded with sheep's wool.
1400 x 925mm

Old jute wool pack opened out and joined together selvedge to selvedge. Ends bound with recycled curtain material.
1550 x 1321mm

Hexagon quilt in dress and shirting cottons constructed in frame style with a centre rosette of 7 patches surrounded by 4 borders of patterned hexagons alternating with cream patches. The quilt has an inner border of triangles then rows of rosettes alternating with cream patches. The outer border is triangles. There is no padding. The backing is cream linen and has had a 20th century white cotton sateen slipstitched to it.
2045 x 1940mm

Patchwork quilt made from hexagon patches in silks and rayons, in pinks, blues, red, yellow mainly, with pastels. No padding. Bordered and backed with green satin.
1829 x 1372mm