Quilt No.355AH - Ann Hockey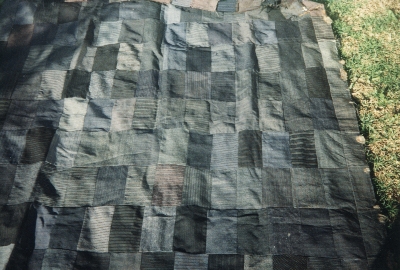 Description:
Patchwork quilt made from rectangles of samples of men's woollen suitings, in greys and blues and some browns. The rectangles were machine sewn together and then sewn in rows or strips. Originally the quilt had a rabbit skin backing, removed due to deterioration. No padding. Machine sewn.
1550 x 1420mm
History:
Made in approximately 1925 by Sarah Hockey at Wendellama (NSW). Owned by her son, Reg Hockey, now owned by his daughter Ann.
Story:
Used on surveyor's gang at Deua River (north west of Moruya, NSW), 1925, and also in the Brindabellas (NSW).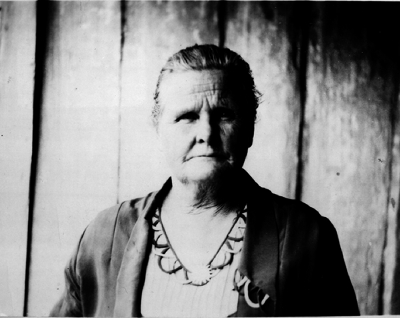 Related Quilts:

Patchwork quilt with alternate squares of green and fawn cotton headcloth. Various Australian wild flowers are embroidered in coloured threads in the green squares. In the fawn squares there is a stylised flower and leaf pattern outlined in embroidery. The border, front and back is green headcloth. The backing is printed cotton with a floral design. There is some padding.
1610 x 1610mm

Machine pieced cotton quilt, in random design of geometric pieces. Materials used are cotton sheeting, dress fabrics, broderie anglaise, and seersucker. There is no padding, and backing is white curtain lining.
1540 x 1150 mm.

Suffolk puff quilt with each puff approximately 4cm x 4cm. The puffs are small squares rather than the more usual circles. Materials are mainly cottons and satins in a wide variety of colours and patterns. The backing is striped flannelette and is hand stitched to the top.
1660 x 1140mm

Block pattern consisting of a circle, hexagon and circle within a square. Cotton dressmaking fabrics with a few plain creams. Hand pieced and hand quilted. At some stage has been machine reinforced. Now faded, worn and damaged especially one end. Quilting pattern is four leaf clover inside large cable. The backing is 4 different pink toned fabrics in longitudinal stripes. Cotton batting. 2620 x 2300mm
Quilt, single bed size, made from reused clothing roughly handstitched on to a backing of a wool/linen blanket type fabric in green, cream and brown stripes. Clothing is fronts and backs of old jumpers, vests etc as well as opened out sleeves in red, brown and grey. They are stitched together in several layers with long stitches. Another top may have been intended to cover the stitched down layers of clothing.
1500 x 1040mm

Wholecloth quilt originally covered with cretonne and recovered with orange satin. Machine quilted. Padding of wool.
1270 x 1160mm