Quilt No.355AH - Ann Hockey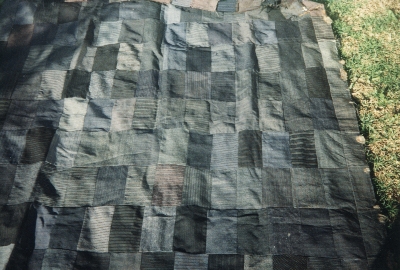 Description:
Patchwork quilt made from rectangles of samples of men's woollen suitings, in greys and blues and some browns. The rectangles were machine sewn together and then sewn in rows or strips. Originally the quilt had a rabbit skin backing, removed due to deterioration. No padding. Machine sewn.
1550 x 1420mm
History:
Made in approximately 1925 by Sarah Hockey at Wendellama (NSW). Owned by her son, Reg Hockey, now owned by his daughter Ann.
Story:
Used on surveyor's gang at Deua River (north west of Moruya, NSW), 1925, and also in the Brindabellas (NSW).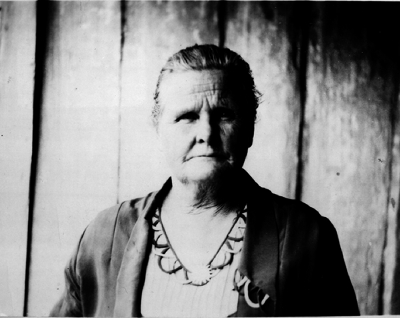 Related Quilts:

Hand pieced hexagon quilt or table cover with centre motif of hexagons within hexagons. The remainder of the quilt is mainly hexagon rosettes. The materials are silks and brocades and it is pieced over papers in the English tradition.
1710 x 1600mm

Quilt in frame style patchwork with applique and broderie Perse applique in printed cottons and linens with silk embroidery. The centre frame has an octagonal shape of floral printed material appliqued on to cream linen surrounded by pieced and appliqued triangles and sashing of printed cotton. Above the frame is embroidered in dull gold silk in cross stitch 'Mary Moxey 1818 Emma Tremlett Born Decr 16th 1837'. Outer borders are pieced and appliqued diamonds and hexagons separated by printed sashing. The quilt is backed with cream linen.
2405 x 2373mm

Log cabin quilt consisting of 36 blocks each 200mm square. Light and dark arrangement with a variety of small patterned cotton materials (floral, spotted, striped) and plains. The blocks are hand stitched on to fine cotton and then joined by machine. There is a 120mm double gathered frill of floral cotton with a beige background. The backing is 2 pieces of cream cotton with repeat floral and musical motifs interspersed with forget me nots.
1500 x 1500mm

Pieced repeat block, in what the owner calls 'Our Village Green' pattern. Wide variety of patterned and plain materials. Finely quilted. Padding is cotton and the backing is white calico. 2180 x 1890 mm.

Quilt made from blocks in a fan pattern, 5 blocks across by 6 down. Fans are set on a black background, materials are wool and cotton in a mixture of plains and patterns. Edges of fans are decorated with cream herringbone stitch. Machine pieced with hand stitched repairs.Cream cotton backing folded over to make binding, stitched with pink herringbone stitch. Tied regularly with pink thread. The quilt is padded with wool.
2000 x 1720mm

Log cabin pattern, each block dark and light strips. 4 blocks joined with dark strips to centre to make larger block. 30 large blocks and 2 sides with half blocks. Each block is machined on to calico. Materials include velvets, corduroys, interlock, taffetas and silver lame. There is a 170mm bottle green border and a single piece of mid brown synthetic for the backing. The padding is probably dacron.
2400 x 2100mm