Quilt No.436PCS - Port Curtis Historical Soc.Inc.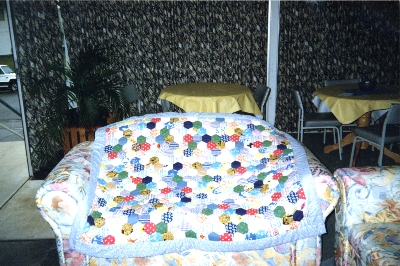 Description:
Cotton Hexagon quilt with a wide variety of patterned and plain materials. Blue binding and a cotton backing. The padding is thought to be cotton wool.
1525 x 1220mm
History:
The quilt was made by Mrs. Dorothy Boyd and donated to the Calliope River Historical Village in 1982. It is used as a quilt on a colonial bed.
Related Quilts:

Double sided patchwork quilt. One side has small 'Tumbling Block' pattern. The other side has larger pattern of pieced stars. It is made of silks, some printed, some solid colours mainly blues, greens cream and black. There is no padding.
2100 x 1800mm

Quilt made of tailors' swatches, machine constructed around a central frame that is mainly mid brown pieces. This is surrounded by rectangles of mainly charcoal greys and the outer border is navy blues. The backing is a heavy cotton with random green and cream and grey stripes.
1651 x 1220mm

Crazy patchwork quilt made from silk, brocade and velvet pieces, the seams covered with feather stitching in yellow silk. Fabrics are plain, and patterned with tartans, woven spots, stripes and floral brocade. Colours are rich, mainly red, pink, blue, green and cream. Quilt has a patterned velvet or velour border with urns and flowers in pale olive green and black, edged with a fringe in these colours.
1090 x 1040mm

Child's Patchwork quilt of pieced repeat blocks in red print and white cotton, in 'Bow Tie' pattern. Qult has cotton backing, and wool filling. Some patches are fraying. The quilt has 'Mary Lactitia Thompson' embroidered on it.
1905 x 1296mm

Patchwork quilt, all cotton including cotton padding. Pattern is based on squares and a cross. Variety of fabrics, plain and patterned. Hand stitched and quilted.
2083 x 1626mm

Hand pieced hexagon quilt in pattern known as 'Grandmother's Flower Garden". 12 hexagons, in patterned cottons, form the outer border of each flower with an inner border of 6 matching plain coloured hexagons and all flowers have a yellow hexagon centre. There is no padding, a cotton backing and it is hand quilted.
2400 x 1780mm.