Quilt No.877NTNW - National Trust of Australia (NSW)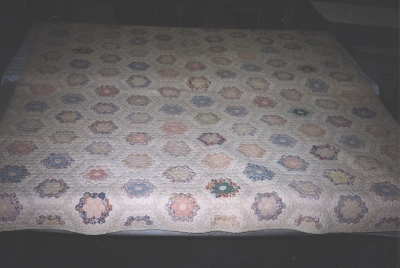 Description:
Handsewn quilt of hexagon patches in cotton prints in 'Grandmother's Flower Garden' pattern. Each flower consists of double rows of print hexagons around a yellow centre and these are joined by 'paths' in plain green and white cotton. Backing is green cotton and there is a wool padding. There is outline quilting around all green and white hexagons and centre and first row of hexagons in flowers.
1885 x 1750mm
History:
The quilt was made in Australia in the 1930s. Details about the maker are unknown. It is now part of the quilt collection of the National Trust (NSW).
Related Quilts:

Patchwork quilt made in the 'Trip Around the World' pattern, from cottons and some fine dress linen, in bright and pastel solids. Each colour is placed in a diamond shape on the quilt. Patches are 10cm square, quilt has 620 squares. The linen was mainly used to work the cross stitch. Quilt has a 2 inch border in black. Backing is sheeting. Each square is embroidered, with many different stitches, in geometric, floral, animal, insect and abstract designs, in different colours.
2760 x 2350mm

The top is machine pieced patches of used clothing. The backing is large pieces of dress materials and either end patches similar to the top. The padding is a chaff bag or similar with patches of worn, matted children's jumpers sewn directly on to it.
1400 x 1150mm

Patchwork quilt in Log Cabin pattern made from silks, velvet, cottons and taffetas, in prints and plain, around a centre squares of black velvet. Colours are, in the dark sections, blues, greens, browns, yellow and pinks. The base of the blocks is blue and white ticking. The padding is probably cotton. Backing is of green cotton. There is an attached frill on all sides of green cotton, faded to dull light brown.
1630 x 1350mm

Quilt consisting of 30 blocks 360 x 360mm each (5 x 6). Each block consists of squares and rectangles arranged diagonally and edged with triangles. Each block is made from 2 or 3 different cotton materials, different colours but mainly pastels. It has not been quilted but tied with pink wool with 5 ties per block. Machine sewn with a folded and machine stitched edge. Padding appears to be coarse open weave cotton. The backing is printed flannelette.
2210 x 1850mm

Pieced quilt featuring log cabin and tumbling block patterns. It is handsewn and has some appliqued flowers.Materials are mainly velvet with a small amount of cotton. There is no padding and the backing is cotton flannelette.
1525 x 1220mm

"A tied patchwork wagga quilt made from swatches of men's wool suiting fabrics in blue/grey and pink/brown tonings. Rectangular swatches have been cut in half diagonally, and the resulting right-angled triangles paired to form larger equilateral triangles which alternate dark with light across the field. The quilt has been machine and hand pieced, then machined in vertical stripes.
The centre field is bounded by two strip-pieced borders at top and bottom, and three down each side. These are sewn from rectangles, using light pink/brown tones for the inner border and darker colours for the outer borders. The quilt is padded and backed and the side seams are secured with black herringbone stitch. The three layers are tied together invisibly with lazy daisy stitches in black cotton from the back." [PHM] The padding is a wool blanket and the backing is two pieces of cream twill cotton.
2030 x 1440mm