Quilt No.450PS - Pat Stevenson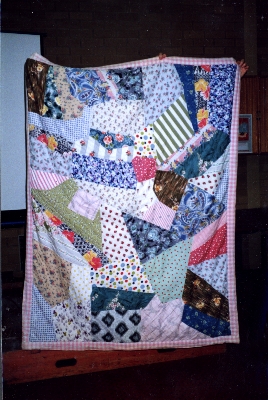 Description:
Crazy patchwork stitched on to an old sheet. Machine constructed with 2 sides similar. It is made from left over dressmaking materials of the fifties. The 2 sides with cotton wadding in between are bound together with a 55mm pink and white gingham binding.
1803 x 1398mm
History:
This quilt was made by Elsa Beavis in Melbourne for Pat Stevenson in 1958/59. It is still owned by Pat Stevenson and is still used.
Story:
" Elsa Beavis was the needlework teacher in charge of the subject at Flemington Girls School in 1958 when I started teaching there in 1958. Elsa had made a similar quilt for another staff member and when requested agreed to make one for me.
I was to provide the materials. So I gathered fabrics left from my dressmaking, my students dressmaking, and pieces collected from my working time in the dress trade 1954 and 1955 at a sportswear and casual clothing factory. My mother provided the 2 old worn sheets that form the backing to the patchwork.
Elsa Beavis was a lady who did all types of needlework. I had done much embroidery but never met cross stitch and traditional forms of counted thread work, to which she introduced me.
Of a Norwegian extraction, she made exquisite traditional folk dress for dolls with the traditional decoration. Many prizes were won by her at the Royal Melbourne Show in the years I knew her.
She later married a widower and became Mrs. Elsa Williams, living at Gladysdale and teaching at a High School in Yarra Junction Victoria. Unfortunately I lost track of her, but I owe her a lot, as my mentor, to the wider world of textile arts."
[Pat Stevenson 14.3.98]
Related Quilts:

Cotton frame quilt with a diamond in the centre of the frame and a border of straight pieces. The outer border is diamonds. The quilt is hand sewn and hand quilted.
1910 x 1830mm
Cotton scrap quilt with shapes of squares and diamonds and strips. There is no padding and the backing is calico.
2125 x 1440mm

Cotton quilt, machine sewn and hand quilted. Pattern similar to Double Irish Chain. The background is white and the small squares mainly patterned in pinks, blues, lilacs and greens. The backing is plain white cotton and the padding, which is lumpy, could be some type of cotton.
2057 x 1220mm

Patchwork quilt in crazy pattern, with pieces of silks, corded silks and velvets in prints, plaids and plains. Nearly all pieces are edged with embroidery, and many pieces have embroidered names and motifs. There are a variety of embroidery stitches. The backing is of slub cotton in a plaid pattern in yellow, grey, red and white. No padding. Quilt has a gathered edging of dark red organdy and silk. Names and dates embroidered are: Bert, Milly, Toots, Verdi, Ida, and 1893, 1895, 1894.
1550 x 1420mm

Log cabin quilt consisting of 36 blocks each 200mm square. Light and dark arrangement with a variety of small patterned cotton materials (floral, spotted, striped) and plains. The blocks are hand stitched on to fine cotton and then joined by machine. There is a 120mm double gathered frill of floral cotton with a beige background. The backing is 2 pieces of cream cotton with repeat floral and musical motifs interspersed with forget me nots.
1500 x 1500mm

Patchwork quilt made for a child. All cotton with cotton padding. White blocks have embroidery depicting different nursery rhymes eg Mary, Mary, Quite Contrary ; Old Mother Goose. These blocks are separated by rectangular strips of teal cotton. The quilt is hand stitched and heavily quilted.
1677 x 1271mm