Quilt No.549JL - June Loewenthal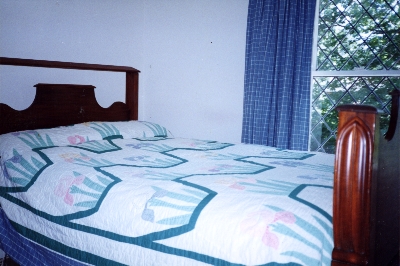 Description:
Hand made cotton quilt in repeat block with appliqued Iris pattern. It is a kit quilt. "The Iris, Design "R" of the 'Mountain Mist Series' of Quilt Patterns" from The Stearns & Foster Company, Lockland, Cincinnati, Ohio. Copyright 1930. The backing is cotton and the filling also.
2439 x 1981mm
History:
The maker is unknown but is said to have been a Scandinavian woman. The present owner purchased the quilt at Tinker Tailor, a shop in the Sydney suburb of Pymble, in the 1950s. It was used as a bedspread at Roberton Park, Kirkham Road, Glengarry NSW an early stone house. It is now used sometimes in the owner's Sydney home.
Story:
June Loewenthal recognised the pattern in a magazine many years after she had purchased the quilt. She then sent to America for it.
The pattern gives detailed instructions and figures for the block in actual size.
"The charm of this beautiful and unusual Iris Quilt lies in the natural treatment of the design. The finished quilt is a veritable garden of bloom in actual Iris colous!"
"MOUNTAIN MIST PATTERNS are obtainable only with the purchase of Mountain Mist Quilting Cotton. One pattern, (no choice of design), is furnished free with each bat purchased, and also a coupon good for one other pattern at a very low price."
[Extracts from "The Iris, Design 'R' of the "Mountain Mist Series' of Quilt Patterns"]
Related Quilts:

Cotton frame quilt with a diamond in the centre of the frame and a border of straight pieces. The outer border is diamonds. The quilt is hand sewn and hand quilted.
1910 x 1830mm

Patchwork cot or pram quilt made of diamond patches in the Tumbling Block pattern. Patches are made from cotton, corduroy and velvet, with red, black, teal blue, green, brown and cream predominating. No padding. Backing is of green wool and the quilt is bound with dark red crushed velvet.
780 x 560mm

Quilt in pattern known as 'double weeding ring'. All cotton, using old prints, plaids, checks and solid colours, with plain blues and red squares at the intersections of the circles. White background. Hand pieced. Padding is Hobbs Heirloom: cotton 80%, polyester 20%. Backing is cream quilted cotton. 2500 x 2100 mm.

Patchwork quilt made for a child. All cotton with cotton padding. White blocks have embroidery depicting different nursery rhymes eg Mary, Mary, Quite Contrary ; Old Mother Goose. These blocks are separated by rectangular strips of teal cotton. The quilt is hand stitched and heavily quilted.
1677 x 1271mm

Patchwork quilt in the Tumbling Block pattern in light and dark silks in bright colours. On both sides and at the bottom is a wide border in Tumbling Blocks, the pattern vertical at the sides and forming a triangle centre bottom, with an edge on both sides of two black bands with pieced diamonds between. Made for a poster bed. Hand sewn.
1790 x 1750mm

Patchwork quilt or table covering dark and light silks in bright colours, pieced from diamond shapes into stars with black patches between the stars. Plain and patterned silks are used for the stars. Border is made from a single row of Tumbling Blocks in plain silks with an edging on each side of truncated black diamonds on blue on the inside, orange on the outer edge. There is a star pieced of diamonds in each corner. Hand sewn.
1830 x 1800mm