Quilt No.549JL - June Loewenthal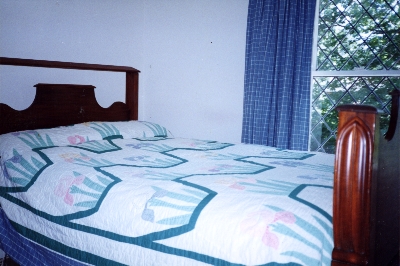 Description:
Hand made cotton quilt in repeat block with appliqued Iris pattern. It is a kit quilt. "The Iris, Design "R" of the 'Mountain Mist Series' of Quilt Patterns" from The Stearns & Foster Company, Lockland, Cincinnati, Ohio. Copyright 1930. The backing is cotton and the filling also.
2439 x 1981mm
History:
The maker is unknown but is said to have been a Scandinavian woman. The present owner purchased the quilt at Tinker Tailor, a shop in the Sydney suburb of Pymble, in the 1950s. It was used as a bedspread at Roberton Park, Kirkham Road, Glengarry NSW an early stone house. It is now used sometimes in the owner's Sydney home.
Story:
June Loewenthal recognised the pattern in a magazine many years after she had purchased the quilt. She then sent to America for it.
The pattern gives detailed instructions and figures for the block in actual size.
"The charm of this beautiful and unusual Iris Quilt lies in the natural treatment of the design. The finished quilt is a veritable garden of bloom in actual Iris colous!"
"MOUNTAIN MIST PATTERNS are obtainable only with the purchase of Mountain Mist Quilting Cotton. One pattern, (no choice of design), is furnished free with each bat purchased, and also a coupon good for one other pattern at a very low price."
[Extracts from "The Iris, Design 'R' of the "Mountain Mist Series' of Quilt Patterns"]
Related Quilts:

Quilt consisting of 30 blocks 360 x 360mm each (5 x 6). Each block consists of squares and rectangles arranged diagonally and edged with triangles. Each block is made from 2 or 3 different cotton materials, different colours but mainly pastels. It has not been quilted but tied with pink wool with 5 ties per block. Machine sewn with a folded and machine stitched edge. Padding appears to be coarse open weave cotton. The backing is printed flannelette.
2210 x 1850mm

This quilt has been strip pieced with no regular pattern. It seems a large quilt has been made then folded in half. The materials used are woollen skirting pieces in a variety of colours. It could be used either way. There is no padding and it is very heavy.
2100 x 1950mm

" Reversible patchwork quilt of woollen suiting/upholstery fabrics in khaki, greys, blues and browns. Both sides have different designs. The front of the quilt has 13 rows of 12 vertical rectangles flanked on either side by a column of 22 horizontal rectangles. The reverse has a more interesting and complex design of small and very large rectangles, squares and triangles; with khaki contrasting with the duller greys and blues. The patchwork layers are joined at the edges with machine stitching and the quilt is machine quilted along 3 horizontal lines following joins in the patchwork; therefore not being totally straight. These lines are more noticeable on the reverse. The reverse face has been on display at the NGA." [NGA] There is a cotton blanket used as padding. 2054 x 1451mm

This Adelaide Chronicle wildflower quilt has alternating squares of green and fawn headcloth embroidered with Australian wildflowers on the fawn squares and stylised floral motifs on the green squares. It is bordered and backed with the same green material. It is padded.
2350 x 1530mm

Hand pieced cot quilt made from small rectangular shapes of a great variety of materials including cottons, silks, wools and velvets. The backing is cotton sateen in 3 colours and is brought to the front to form a border of pink, cream and yellow.
1170 x 920mm

Pieced hexagons, English paper method. Large hexagons form the centre with a border of smaller hexagons. The fabrics are all cotton in a wide range of colours and patterns. There is no padding. The backing is cotton, large white floral design on dark blue. The hexagons are hand pieced and the edges machined.
2480 x 1420 mm