Quilt No.576JT - Jillian Towers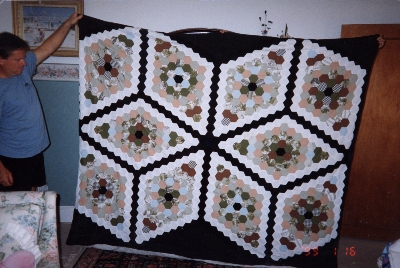 Maker
Maker:
Delores Taylor and Elsie Towers
Description:
Hand pieced patchwork quilt with 10 diamonds consisting of hexagons with white and black rows as edging. Materials include furnishing and dress materials and a type of linen. It is not quilted or tied. The backing is a small floral print in flannelette.
2180 x 1830mm
History:
The hexagon diamonds were hand pieced by Delores (Babs) Taylor in England during WW11. The black and white hexagons and the backing were added by Elsie Towers, the present owner's mother, in Australia in 1982. It is not used now.
Story:
Babs Taylor migrated to Australia from England after the war. She died in the late 1970s.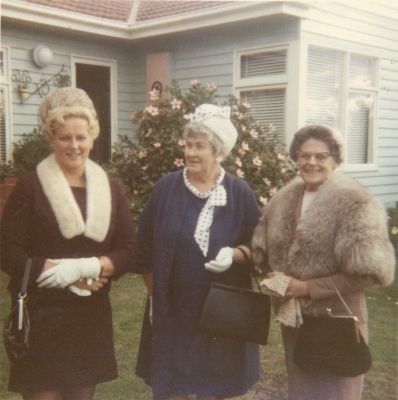 Related Quilts:

Patchwork quilt made from cotton fabrics in stripes, small prints, and plains. Centre block is pieced red and white triangles within a blue and white striped frame, with a row above and below of triangles in a flying geese pattern. Two rows of triangles in the flying geese pattern are on either side the full length of the quilt. Quilt is bordered with red cotton. Colours are red, white, pink, blue and yellow. Padding is probably a woollen blanket, the backing is linen. Closely quilted all over.
2180 x 1930mm

Double sided quilt with both sides based on a central frame. One side has centre panel of darks surrounding 4 patch of the same print in different colourways. This is surrounded by borders of rectanglesis small prints, checks and stripes. The outer border is men's suitings. The other side has a centre frame similar to the 'Broken Dushes' pattern surrounded by wide borders in solid colours, paisley and fine checks. There is a dark strip across the top and bottom. It is roughly machine quilted.
1770 x 1380mm

Hand stitched quilt of suiting materials. Centre rectangle also suiting materials but arranged with a smaller scale, is edged with a cord of red fabric covering string. The outer red border has been renewed by the owner and closely matches the original. The backing is ticking. There is no padding.
2390 x 2110mm

Quilt with alternate red and white diamonds in cotton, with wide border of white cotton and a white cotton crochet edging. All diamond patches and edging were joined to white border decorated with feather stitch. White border edged with zig-zag white feather stitch. Centre rectangle of white has 4 red petals edged with white feather stitch and 4 red diamonds each embroidered in white clockwise: '1898', 'R', 'L', 'K'. Diamonds edged with feather stitch. There is no padding and the backing is white cotton.
2420 x 1740mm

Cotton log cabin double bed quilt. Each square has 52 pieces (i.e. 13 pieces x 4 to make a square). There are 192 squares so a total of 10.092 pieces. There is probably no padding. The backing is calico with a floral pattern done in running stitch.
2200 x 2200mm

Patchwork quilt made from hexagon patches on one side, and squares and rectangles on the reverse. Cottons are used, mostly from dressmaking, in bright and light colours. The hexagons form an indented edge on all sides; on the back the rectangles have been cut at the edge to match the hexagon shapes. Hand sewn, the edge machine sewn.
No padding.
1551 x 1373mm