Quilt No.808QVM - Queen Victoria Musuem and Art Gallery
Owner:
Queen Victoria Musuem and Art Gallery
Description:
Quilt with log cabin blocks forming centre rectangle with border of crazy patchwork, in silks and velvets, handsewn on to backing of blue, beige, white woven cotton. Log cabin blocks are in rich dark and light rows forming diagonal stripes. The crazy patchwork has edges decorated with yellow and cream feather stitch. Mostly plain materials with some checks and stripes. The quilt appears to have had the edges cut down. The outer border is a dark blue figured velvet. There is no padding and the backing is maroon silk with a woven yellow motif.
1655 x 1215mm
History:
The quilt is thought to be c.1890. It was found in an Op. shop many years ago, 1970s. Acquired by the Queen Victoria Musuem and Art Gallery in 1999.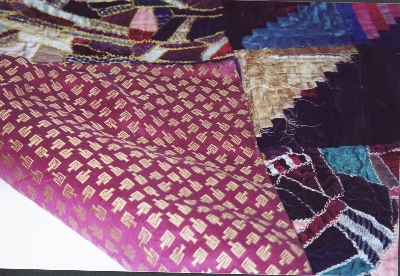 Related Quilts:

Frame quilt with central square of fabric around which the borders or frames have been added in strips. The fabrics are mostly floral, a heavy weight similar to damask or curtaining. The colours are mainly beige, brown, green and red. The original backing was a red paisly design. A second backing, of red, brown and yellow leaves on white (possibly dating from 1930s), has been added at a later date. Quilt is bound with brown fabric.
2200 x 2000mm

Double sided frame quilt. All reused materials including corduroys, wools and light weight suitings. Machine made and not quilted There is no padding as already heavy and warm.
1780 x 1530mm

Cotton quilt, checks, plains and patterns. Machine construction. Rectangles stitched together in strips and then strips joined. The backing is a cotton print. There is no padding and no quilting.
2420 x 1220

Patchwork quilt of hexagon patches with a large central group of 14 rows, then groups or 'flowers' of 6 patches placed over the rest of the quilt. The colours are red, black, white and blue, in a mixture of stripes, florals and plains. No padding. Backing is a double bed sheet. Hand sewn.
2591 x 2566mm

Quilt of machine pieced squares and rectangles using a wide variety of materials in plain colours and patterns. It is one of a pair. There is no padding and the backing is 90cm strips of calico.
2500 x 2130mm
Dresden plate quilt with pointed pieces set around a white centre. Fabrics are checks, floral patterns and plains of the 1930s. The twenty blocks are sashed with plain mauve fabric which does not meet evenly in some places. The padding is two layers of cotton bedspreads. The backing is open weave rough quality cotton.
1860 x 1550mm.