Quilt No.756PHM - Powerhouse Museum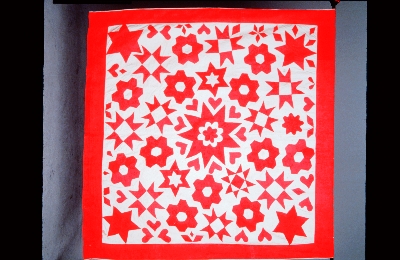 Description:
"A quilt or coverlet of natural cotton sheeting with appliqueed motifs cut from a variety of crimson cotton damask. The quilt is hand sewn and nearly square and has a 12 cm border made from the same crimson damasks. The applique motifs consist of a range of hexagons, rosettes, flowers, hearts and stars that radiate outwards from a large centrally placed star shape. All are the same shade of crimson red which suggests they were dyed in the same dye pot. The fabrics are now quite thin and soft which suggests that the quilt, or the fabric it was made from, was well used." [PHM]
1960 x 1950mm
History:
The quilt was a gift of the Royal Australian Historical Society in 1983. No earlier provenance information available. The quilt is used for research and exhibition purposes only.
Story:
"Although the identity of the maker of the quilt is unknown, we can presume much about her (or him) from the choice of materials and the design. Because of the apparent reuse of the kind of damask fabrics used to make table cloths and napkins for the patches and the border, we can presume the maker was concerned to practice economy. From the clarity and exhuberance of the design, we can also reconstruct a maker who had an excellent design sense. Because the bold combination of red and white was particularly popular in Ireland in the 1800s, we may even suppose that the maker was Irish." [PHM]
Related Quilts:

Wholecloth pram quilt with a top of pink cotton sateen, and the reverse is a more finely woven, ivory, fabric. All over quilting design as main feature, with stylised hearts, leaves and cross hatching. The padding is cotton batting. 870 x 660 mm.

Hand stitched, cotton, appliquéd, quilt in a flower pattern on a plain background. Colours are shades of green, apricot and browns. This quilt was known as a 'Bride's Quilt'. Padding is thought to be layers of white fabric raised almost like a wadding. The backing is cotton material. 2470 x 2020 mm.

Cotton applique quilt in 'Kentucky Rose' wreath pattern. Cream background with applique flowers in deep pink with green stems and leaves. The wreaths, each with 4 flowers, are repeated across the quilt. It is extensively hand quilted. The backing is cream finished cotton and the padding is cotton.
2300 x 2250

Wholecloth quilt with both sides in a cotton floral material with a dusty pink background. All over hand quilting is in loose parallel lines.
Stavroula re-covered this quilt with this material about 20 to 25 years ago. Originally the quilt had a yellow gold satin top with yellow gold cotton backing. Padding is cotton wadding.
1900 x 1600mm

This 'Quilt' is made from an army great coat from the second world war. The seams have been unpicked and pieced together by machine zig-zagging the flat edges (with Singer treadle sewing machine). The pocket slits are turned back and seamed rather than being pared off. The outside edges are turned over and blanket stitched in red. It does not have a backing.
1620 x 1180mm

One side of this wholcloth quilt is a single piece of cretonne or similar with a pattern of autumn leaves. The other side is patched pieces of curtaining. The padding is old clothing, mainly knits, tacked to random pieces of curtain material. The quilt is tacked together to hold all the padding in and machine stitched to the backing.
1850 x 1100mm